Ask the Experts: Where Will the Democratic Race for President Stand After Super Tuesday?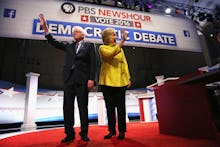 Finally, it has arrived.
After a month of suspenseful early nominating contests in Iowa, New Hampshire, Nevada and South Carolina, the presidential candidates' single biggest opportunity to net delegates in the race for the White House is here: Super Tuesday.
In a dozen states, a large portion of which are in the South, voters will head to the polls on Tuesday to cast their ballot for their preferred candidate on a day that is likely to change the dynamic of the race irreversibly.
On the Democratic side, polling indicates that Hillary Clinton is poised to sweep most of the states. If she manages to reprise her formidable performance in South Carolina in the other southern states voting on Tuesday, she's likely to emerge with an insurmountable lead. Her enormous popularity among black voters is key to her success in the region.
Read more: Ask the Experts: Where Will the Republican Race for President Stand After Super Tuesday?
At the moment, Sanders' only guarantee is winning his home state of Vermont. He also has a decent chance at edging out Clinton in a number of whiter states outside of the South — Colorado, Massachusetts, Minnesota and Oklahoma. Winning a few states is essential for his ability to maintain the enthusiasm and flow of money required to continue a grassroots campaign that may not secure the nomination, but would continue to influence Clinton's platform in the case that she wins.
In order to get a sense of what to expect as millions of Democrats go to the polls, Mic got in touch with a several top politicos and scholars and asked them all one question: 
When we wake up on Wednesday morning, what will the Democratic race look like? 
Here's what they had to say.
Joe Trippi, Democratic political consultant
It will look like the race is over. It has been over for quite awhile — but Super Tuesday will make it clear to everyone that Sanders is not a threat to win the Democratic nomination and never was a threat to do so. He can continue as a protest candidate through to the convention. He has the money and following to do so, but Nevada and South Carolina ended any hope he had of winning the nomination. Super Tuesday will make it obvious.
Larry Sabato, director of the University of Virginia's Center for Politics
Hillary Clinton has always been the substantial favorite to win the Democratic nomination — even after her landslide New Hampshire defeat — and that won't change after Tuesday. In fact, it will probably be more obvious to everyone that she will be the nominee. The South Carolina voting patterns may not be precisely replicated, but Clinton is likely to sweep the other Southern states. Bernie Sanders, who has run a remarkably strong (and mainly positive) campaign, only really has a shot in Massachusetts, Minnesota, Colorado, Oklahoma and, of course, his native Vermont. I don't expect him to win all of these states. Clinton will add to her delegate lead, and when superdelegates are added in, her edge is a wide one.
Mary Anne Marsh, Democratic strategist
Clinton should win the majority of delegates in the Super Tuesday contests, adding to her lead over Sanders. That means the only way Sanders can catch Clinton — not beat her, but catch her — with the remaining contests and delegates is to win approximately 60% of all the delegates (the actual percentage can't be determined today until the actual results tonight) in all the remaining contests through June... and that's not going to happen. 
Sanders will continue to add to his delegate total, as Democrats award them proportionally based upon the votes a candidates receives. But Sanders is not going to be Democratic nominee, and you can see that he and his campaign know that as well in the past few days by their campaign activities.
Stephen Ansolabehere, professor of government at Harvard University
Super Tuesday will create winners and survivors. The winner will be Clinton, who will win most of the contests. It looks highly unlikely that Sanders will win. He's just trying to pull Clinton to the left. He will win Vermont (where there are not many delegates) and possibly the caucuses in Minnesota and Colorado (where they will split the delegates equally). Massachusetts will be close. Elsewhere I expect her to win by double digits. Clinton will come out of Super Tuesday with a huge delegate lead and with the label of presumptive nominee. If her win is big enough, he might drop out. Otherwise, I expect the race to be over March 15.
William Howell, professor of political science, University of Chicago
Come Wednesday morning, we are likely to see Clinton in a commanding lead on the Democratic side of the partisan ledger. Sanders probably won't drop out, not just yet. But having won three of the first four contests, and the fourth in commanding fashion, she goes into Super Tuesday with a good deal of momentum at her back. Outside of the Northeast, the polls show Clinton with a solid lead in nearly all of the upcoming primaries. In short order, it's hard to see how this doesn't become a one-woman Democratic race.
George C. Edwards III, professor of political science, Texas A&M University
I expect that Hillary Clinton will do very well on March 1, so well that she will, in effect, have clinched the nomination. Super Tuesday is a South-centered set of elections. Clinton is likely to be more appealing to more centrist Democrats, who compose the bulk of the electorate in Southern states, and to African Americans, who also compose a substantial part of the electorate in the South.
Steve Schale, Democratic strategist
People always underestimate the importance of momentum in the party nomination process. I suspect that Clinton's stronger than expected performance in South Carolina will lead to a stronger than expected Super Tuesday. While I have nothing but respect for the campaign he's run and the energy he's brought to the race, if Sanders has a tough night, he needs to begin asking himself how he can broaden his appeal, and if he can't, what is his purpose for staying in the race.