In Praise of the "Sexually Active Fat Friend"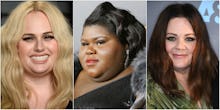 Last year, Amy Schumer was accepting Glamour UK's 2015 Trailblazer of the Year Award when she said the following: "I'm probably like 160 pounds right now and I can catch a dick whenever I want, like, that's the truth. It's not a problem."
The quote immediately went viral and was aggregated by dozens of websites (including this one) as yet another example of Schumer's unique brand of frank vulgarity. Yet there was another reason why Schumer's quote was so eminently shareable: It resonated with people who identify with a certain type of woman, a woman who might very well have a few extra pounds on her (at least, by Hollywood standards) and yet refuses to acquiesce to conventional notions of female sexuality. It's the woman who boozes and fucks without apology, refusing to yield the spotlight to her reedier, blonder female friends:
The fuckable fat friend. 
The fuckable fat friend trope has existed in various forms throughout Hollywood's history. On shows like Married with Children and Saved by the Bell, the horny fat girl is essentially nothing more than a visual punchline, a grotesque figure whose libidinousness stood in stark contrast to Al Bundy's or Zack Morris's abject disgust. 
In early-aughts teen romcoms like The Hot Chick and and Shallow Hal, there's a slightly more evolved perspective. The fat girl is a more sympathetic and likable character, plus, she manages to get the guy in the end; but her physique is still largely played for laughs, punctuated by gags of cannonball splashes in pools and jokes about fat girls having to shave their chins. 
Even ostensibly sympathetic fat girl characters, like Terri MacGregor in Degrassi or the titular character in Precious, ultimately don't have any control over their own sexuality: Precious is raped by her father, who ultimately gives her HIV, and the moment Terri meets a nice guy, he turns out to be an abusive dickhead who puts her into a coma. 
It's only been until recently that a new type of figure has emerged, a larger woman who can own her sexuality without being viewed as a punchline or having her sexual satisfaction come at a price. Melissa McCarthy in Gilmore Girls, Retta in Parks and Recreation and Rebel Wilson in the recently released film How to be Single are probably the ultimate examples of this: larger women who go after the object of their sexual desires, without their weight being a source of commentary, let alone derision. 
Over the past few years, the trope has experienced some growing pains. McCarthy's character in Bridesmaids, for instance — or even Wilson's character in the same film — are both unapologetically sexual, with McCarthy growling lascivious pickup lines like a cross between a jungle cat and Samantha Jones from Sex and the City. Yet part of the joke stems from the contrast between her demeanor and her physique, effectively making her body the punchline. Wilson's character's sexuality is similarly used for comic effect.
Yet in How to be Single, Rebel Wilson's Robin is probably the platonic example of this trend, serving as a sexual empowerment spirit guide of sorts for her newly single friend Alice (Dakota Johnson). Robin demands to be the center of the male gaze, grinding with men at clubs and making out with them on the dance floor. In one scene, she comments on a one-night stand's sexual prowess, before admitting that she doesn't actually remember their encounter together. 
Robin's sexuality could easily read as tokenizing or pandering to female body image advocates, but her weight weren't considered simply a non-issue; unlike previous movies like Bachelorette or Pitch Perfect (where Wilson's character is known as "Fat Amy"), Wilson's physique goes unremarked upon. Nor does she serve as a second fiddle for her more slender friend: it's just a tale of two hot chicks looking to get laid.
Ten or 20 years ago, in a cultural climate where Tyra Banks concern-trolled by donning a fat suit or Renee Zellweger's (fairly moderate) Bridget Jones weight gain made headlines, a character like Rebel Wilson's Robin or Retta's Donna Meagle would not have passed muster. 
Yet thanks in no small part to the visibility of women like McCarthy and Wilson and the efforts of body-positive activists like Tess Holliday, it's no longer acceptable for fat women's bodies to exist solely as punchlines, nor is it OK to click our tongues at Sports Illustrated cover model Ashley Graham and wonder if a girl "that size" is really "healthy" enough to appear on magazine covers, as former model Cheryl Tiegs recently did. 
Bigger women are increasingly gaining control over their own bodies and their own narratives, which means they have more control over their sexuality as well. 
Still not everyone is comfortable with viewing larger women as sex symbols, if the reaction to Gabourey Sidibe's sex scene on Empire last November is any indication. After a fat-shaming meme made the rounds — a photo of Sidibe's love scene with actor Mo McRoe, with the caption "Damn some of you people can't even get a text back" — Sidibe clapped back in a recap for Entertainment Weekly: 
"I, a plus sized, dark-skinned woman, had a love scene on primetime television. I had the most fun ever filming that scene even though I was nervous. But I felt sexy and beautiful and I felt like I was doing a good job." 
She might as well have written that she could catch a dick whenever she wants — and you know what? She would've been right.