Lush Is Welcoming Syrian Refugees to Stores in a Powerful Way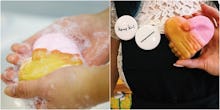 In spite of a political climate rife with anti-refugee sentiments, many public figures — including Angelina Jolie, Benedict Cumberbatch and Olivia Wilde — along with the American public have voiced their support in welcoming refugees to the U.S. with open arms.
That tolerant American hospitality has now spilled over into corporate brands' charity strategies, including that of beloved beauty brand Lush.
The UK-based cosmetics company, known for its ethically sourced bath and beauty products, just wrapped up a humanitarian campaign dubbed Refugees Welcome, which garnered both criticism and praise from the public on social media for its unorthodox efforts toward the crisis.
Lush's strategy: Go beyond monetary donations to actually welcome refugees IRL. 
In partnership with International Rescue Committee and Amnesty International Canada, Lush has created a "Hand of Friendship" soap. Proceeds from the sales of the $5.95 soap will help refugees arriving from Syria settle in North America through the newly created Friendship Fund.
Along with donations and raising awareness, Lush has also turned all of its North American retail stores (more than 230 locations) into beautiful (and fragrant) welcome spaces.
"The decision to write 'Welcome to you' in the windows across North America was three-fold: One to have Arabic speakers — even refugees — read our message of welcome, and second to draw customers' curiosity in," Carleen Pickard, ethical campaigns specialist at Lush Cosmetics, told Mic. "And thirdly, we want people to learn how to express this welcome themselves, so we included the phonetic spelling, Ahlan wa Sahlan."
Lush hopes that these IRL efforts can spread the word and educate its customers and the public on the ongoing crisis, as can online materials: The company made a video explaining the origin of the Syrian conflict and the urgent need to help those arriving on American shores.
"In addition to offering financial resettlement support to IRC and other groups, we will inspire our customers to welcome Syrians and petition the American government to support more refugees to come to the United States," Pickard said. "This campaign certainly has political elements and our campaign partners do this work — we encourage people to take action on the issue by putting pressure on our governments through Amnesty International and the IRC."
The campaign's strong presence across social media, thanks to the #RefugeesWelcome hashtag, has started a public dialogue, including appreciation for Lush's efforts. 
Some have expressed outrage over Lush's politically charged humanitarian efforts, as evidenced by comments on Lush's official Facebook page.
"Not everyone has to agree with us, and we certainly don't expect everyone will. We don't believe we're taking a radical stance but rather a human stance," Pickard said.
"I think it's difficult for businesses to take this stand, like Lush did," Hilary Weaver, co-director of the Immigrant and Refugee Research Institute at the University at Buffalo, told Mic. "When corporations place their values beyond their bottom line, I feel proud. I'm sure they realized they are taking this risk by campaigning for refugees, as most companies do try to cater to everybody and not take a side."
The company is hardly the first to donate to Syrian refugees. While many corporations, such as FedEx and American Express, have financially supported the ongoing refugee crisis, there hasn't been as big of a public backlash against them, probably due to their fairly unpublicized efforts.
Asked whether the company chooses to ignore the negative backlash from some of its paying customers, Pickard assured it won't deter the brand's stance.
"We don't 'brush off' criticism by any means, but to date criticism has been very small in proportion to the support that people have shown the campaign and, more importantly, the issue." Fear and misunderstanding is threaded through many of those that appear 'upset.' We hope to change some of these minds."
To that end, Lush is reinvigorating both people's consciousness and the conversations surrounding the ongoing refugee crisis. And for people already in love with Lush, this serves as yet another reason to support the company.