Jay Z and Tidal Are Being Sued for Allegedly Ripping Off Their Independent Artists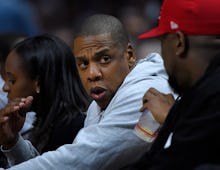 When Jay Z debuted Tidal last year he framed it as the one streaming service that puts artists first. He touted the fact it was artist-owned, that it would be "transparent" with the way it pays out its streams. "Will artists make more money?" he told Billboard of his service. "Even if it means less profit for our bottom line, absolutely. That's easy for us. We can do that."
However, it seems the company may not have lived up to those promises. Monday, Uproxx shared that the Jasmine Brand reportedly uncovered news that the company is facing a $5 million class action lawsuit from musician and publishing company Yesh Music for copyright infringement and underpaying royalties. The "revolution in streaming" may be not nearly as revolutionary as fans had hoped.
The lawsuit claims Tidal illegally and maliciously uploaded 116 copyrighted tracks from a band called the American Dollar, whose drummer John Emanuele appears as one of the primary plaintiffs in the court documents. He and Yesh Music claim that Tidal's library was built off this kind of "systematic infringement," and that independent artists are the ones most impacted.
The suit also alleges that the streaming platform deliberately miscalculated streaming rates, coming up way short of the royalty payments of 75% Jay Z promised back in an April tweet.
"Defendants deliberately obfuscated the correct number of streams used in the calculation by including tens of millions of streams it was not paying royalties in a deliberate move to reduce the per-stream rate to all artists that receive mechanical royalties," the suit reads. It also alleges that Tidal failed to provide accurate accounting to its artists. 
Yesh Music's lawyer Richard Garbarini spoke with Complex Monday and shared that the group asked to have their music taken down off Tidal months ago. Yet, as of publishing time, it's still available to stream. "I find it fairly amazing an organization that claims it was going to pay the artists, systematically does not pay the artists," Gabarini told Complex.
These allegations come at a particularly volatile point in Tidal's history. The service received some major bumps to its listenership following Kanye West's The Life of Pablo and Rihanna's Anti. According to sources connected to the New York Daily Post, the boost has encouraged Samsung to re-enter talks to buy Tidal. 
The electronics giant has already been heavily involved with several of Tidal's artists. Samsung secured a $25 million contract to help distribute Rihanna's Anti, and another deal with Jay Z to distribute the first million copies of his 2013 album Magna Carta Holy Grail. 
Spotify and Google have also not denied interest in purchasing the steaming service, which has reportedly dropped in value from the half-million dollars Jay Z originally bought it for, to $100 million. Those few Tidal diehards will have to wait and see how this new lawsuit impacts all these deals and the future of Jay Z's "revolution."
Feb. 29, 2016, 9:42 p.m.: Tidal has issued a statement on the allegations:
"TIDAL is up to date on all royalties for the rights to the music stated in Yesh Music, LLC and John Emanuele's claim and they are misinformed as to who, if anyone, owes royalty payments to them. As Yesh Music, LLC admits in their claim, TIDAL has the rights to the Master Recordings through its distributor Tunecore and have paid Tunecore in full for such exploitations. Their dispute appears to be over the mechanical licenses, which we are also up to date on payments via Harry Fox Agency our administrator of mechanical royalties.
"The entire catalogue in question streamed fewer than 13,000 times on TIDAL and its predecessor over the past year. We have now removed all music associated with Yesh Music, LLC and John Emanuele from the service. This is the first we have heard of this dispute and Yesh Music, LLC should be engaging Harry Fox Agency if they believe they are owed the royalties claimed. They especially should not be naming S Carter Enterprises, LLC, which has nothing to do with Tidal. This claim serves as nothing other than a perfect example of why America needs Tort reform."