Otto Frederick Warmbier, US Student Detained in North Korea, Reportedly Confesses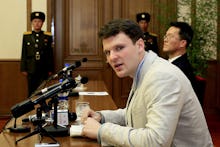 Kim Kwang Hyon/AP
North Korea state media reports that Otto Frederick Warmbier pleaded guilty to "severe crimes" against the state, according to Reuters. The North Korean government has been holding the 21-year-old University of Virginia student since January, after he allegedly tried to steal an item bearing a political slogan from his hotel in Pyongyang. The Associated Press has shared footage of Warmbier who, during an arrangement, called his actions the "worst mistake of his life."
Read more: North Korea Launches Another Missile in Probable ICBM Test
On Monday, an apparently tearful Warmbier apologized before North Korean government officials. 
"On the early morning of Jan. 1, 2016, I committed my crime of taking out the important political slogan from the staff-only area  of the Yanggakdo International Hotel, aimed at harming the work ethic and the motivation of the Korean people," Warmbier said. "After committing my crime against the people and government of the DPR of Korea, I was detained on Jan. 2, 2016 at the Pyongyang International Airport."
"I have no idea what sort of penalty I may face but I am begging to the Korean people and government for my forgiveness and i am praying to the heavens so that I may be returned home to my family," he said. 
Tensions between North Korea and the U.S. — and the international community at large -- have been higher than usual in recent months. In early January, the country claimed it had successfully carried out a hydrogen bomb test, though many doubted the veracity of North Korea's claim.
Each year, about 6,000 Western travelers visit North Korea, though it's not advised, according to Reuters. In December, the North Korean government charged a Canadian pastor with "subversion" and sentenced him to life in prison and hard labor behind bars.