Foria Relief: Could Marijuana Suppository Actually Help Menstrual Cramps?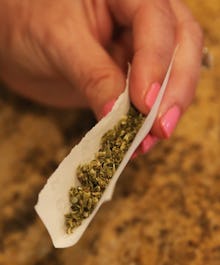 Bruce Bennett/Getty Images
Earlier this year, a marijuana-infused product riding the wave of legalization hit the market in California and Colorado called Foria Relief Suppositories. Containing only organic cocoa butter and two active ingredients found in marijuana — about 60 mg of THC (tetrahydrocannibinol) oil and 10 mg of CBD (cannabidiol) — these suppositories are designed to be inserted into the vagina and allegedly relieve menstrual cramps. 
"Foria Relief has been carefully crafted using a delivery system intended to maximize the muscle relaxing and pain relieving properties of cannabis without inducing a psychotropic 'high,'" its website reads. Foria Relief can be inserted into the vagina along with a tampon and will take about 15 to 30 minutes to become effective, the Daily Beast reported. 
Read more: Can You Smoke Marijuana While Pregnant? Here's What Experts Have to Say
As a scientifically proven pain reliever, cannabis is often associated with relieving menstrual symptoms, including pain, nausea and headaches, according to Fusion. Foria Relief is meant to be more effective than smoking a joint because the THC doesn't get metabolized, according to Racked. 
"What THC does on the nerve terminal, is it modulates out the high frequency signals. It doesn't allow the high frequency signals to go through," said Tim Drennan, Foria's director of product development, according to Racked. "That's how it is able to modulate pain and still not produce sensation or reduce nerve control. Whereas an opiate just blocks it."  
Other scientists aren't such advocates. "While there may be some theoretical application in the role of cannabis for menstrual cramp treatment, valid research is absolutely necessary to prove its efficacy and safety," nurse Emily Lorber told People. "It is unclear how much of the THC and cannabidiol (CBD) dose is absorbed via mucosal delivery, which poses risk of overdose."  
Instead, a safer option for women is anti-inflammatory medication or birth control, according to People. 
Foria Relief has yet to be approved by the U.S. Food and Drug Administration, instead saying its product is "based on patients' reported experiences," Live Science reported.