Black Teenager Abdi Mohamed Got Shot by Police 3 Times This Weekend — And Survived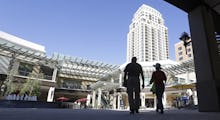 We rarely see stories about black teenagers getting shot by police that don't end in the worst possible way: with the child's death. 
This appears to be the exception. Seventeen-year-old Abdi Mohamed was rushed to a local hospital in a coma Saturday night after being shot three times by police officers in Salt Lake City. On Sunday afternoon — less than 24 hours later — Fox 13 reported he was awake and talking. 
It's a sharp turnaround following an uncharacteristically heated weekend in the city. An estimated 100 police officers converged on the Rio Grande District of downtown Salt Lake City after police opened fire on the teen, according to reports.
Police say Mohamed and another person were assaulting a man using metal objects when they arrived on the scene. Mohamed was allegedly holding a broomstick when he was shot, Fusion reported. "The police said, 'Drop it,' once, then they shot him four times," Selam Mohammed, a witness to the shooting, told Fox 13. 
"We were trying to break it up before the police even came, but the police ran in on foot and pulled their guns out already," Mohammed said. "They already had them, like, as soon as he was running he was already grabbing for his gun, not even trying to Tase him or anything."
Shortly after the shooting, a crowd gathered at the scene and started throwing things at officers — rocks, bottles and other debris. Witnesses told Fox 13 the crowd was angry because they felt police hadn't given Mohamed a chance to surrender. Some of the responding officers were spotted wearing riot gear, and four people were arrested.
The scene was more reminiscent of unrest in Ferguson, Missouri, and Baltimore in recent years than whatever racial tensions one might expect to boil over in Utah. This is partly because of the state's reputation for safety and the region's general lack of diversity: Census data reported Salt Lake City — population: nearly 191,000 — is 75% white and just 2.7% black.
The Unified Police Department, an outside agency, is now investigating the shooting, and the Salt Lake County District Attorney's Office will eventually decide if it was justified, Fox 13 reported.
Police have not publicly confirmed Mohamed's identity, citing his youth, but the teen's family members have to local reporters. According to Fox 13, Mohamed reportedly lived in nearby West Valley City with his girlfriend and their son, and moved to the U.S. from Kenya 10 years ago. 
h/t Fox 13