Donald Trump Rally Video Shows Photographer Chris Morris Being Choke-Slammed by Security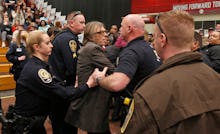 On Monday a photojournalist covering a Black Lives Matter protest at a Donald Trump rally was choked and slammed to the ground by security.
Video captured the moment Time photographer Chris Morris was taken down by a security official at the Radford, Virginia, event, just seconds after telling the guard, "Fuck you," for preventing him from stepping out of the media pen to get a better shot of the protesters.
According to Trump campaign spokeswoman Hope Hicks, the security officer in question was a Secret Service agent. "There was an incident involving a photographer and a USSS agent at today's Radford University Trump rally. We are not aware of all details surrounding the incident and all future inquiries should be directed to local law enforcement," Hicks told Politico.
Yahoo's Oliver Knox confirmed those suspicions via a statement from the Secret Service. Associated Press photos show Morris being escorted away from the scene by other, uniformed police officers.
The Secret Service did not return a call for comment from Mic.
"I stepped 18 inches out of the pen," Morris told CNN's Jim Acosta, "and he grabbed me by the neck and started choking me and he slammed me to the ground. Whatever."
It's not the first time violence has broken out at a Trump rally. On several occasions, Trump's supporters and security personnel have been filmed attacking protesters at campaign events. After one such incident in November, Trump told Fox & Friends, "Maybe he should have been roughed up because it was absolutely disgusting what he was doing."
At a rally in Nevada on Feb. 22, before the next day's caucus, the candidate seemingly advocated violence against a man holding a sign that said, "Veterans to Trump: End hate speech against Muslims."
"You know what they used to do to guys like that in a place like this?" Trump said, according to Slate. "He'd go out in a stretcher. ... You know we're not allowed to touch him? The police are touching him gently and he's smiling and he's having a good time. I'd like to punch him in the face."
Feb. 29, 2016, 5:00 p.m. Eastern: This story has been updated.