Kid Cudi and Kanye West Are Reportedly Working on New Album Titled 'Turbo Grafx 16'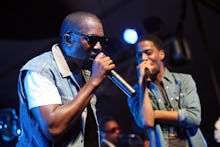 Roger Kisby/Getty Images
Kanye West wasn't lying when he announced he'd be dropping a new album in the summer of 2016 during one of his most recent Twitter rants. As it turns out, Yeezy and Kid Cudi are reportedly back in the studio to begin collaborating on the Chicago heavyweight rapper's next album, titled Turbo Grafx 16, according to West.
Yeezy's barber and longtime creative pal Ibn Jasper posted a pic of the two rappers in a studio accompanied by a bottle of Hennessy, a bottle of Jameson and McDonald's on Instagram, along with the caption, "Turbo Grafx 16 day one #Pablo #MikeDean #Cudi #PlainPat." 
Read more: 12 Recent Kanye West Quotes That Show Yeezy Might Be Having a Breakdown
Two other men, who RapUp identified as music producers, are in the picture, and the foreign object in-between Cudi's lips may or may not be some Maui Wowie. The two have collaborated on a number of projects before, including their critical hits "Erase Me," "Make Her Say," "Welcome to Heartbreak," "Welcome to the World," "Gorgeous," "Christian Dior Denim Flow" and "All of the Lights."
Jasper's candid photo of the combined hitmakers' studio session seems to prove West might not be totally out of his mind when it comes to his recent outbursts on social media. Whether or not the album will have its title changed countless times with the help of his wife Kim Kardashian West, however, is an entirely different story.
Feb. 29, 2016, 6:31 p.m.: This story has been updated.
Correction: Feb. 29, 2016