7 of the Best Black Films and Documentaries on Netflix That Speak to Different Experiences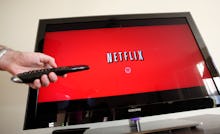 Paul Sakuma/AP
The streaming movie and television service Netflix offers an extensive catalogue of titles that subscribers can view online, including hidden genres as well. As the service continually adds and removes movies from its database, it can be difficult to find films with black leads, or that focus on black life or culture. However, Netflix has a host of drama, comedy and romance films that center around the black experience. 
This list only mentions some of the varied list of black films on Netflix; subscribers should also search for their favorite titles on the streaming service. Be sure to check out these movies while they're still available! 
Read more: 7 Black Films Coming Out of Sundance We Can't Wait For
The Wood
The Wood, starring Omar Epps and Taye Diggs, is one of those classic black films people either grew up on, could relate to, or both. The plot of the film, taken from Netflix, reads: "When a reluctant bridegroom suddenly disappears on his wedding day, his best friends have only two hours to retrieve him from the home of his high school sweetheart, get him sober and cure him of his cold feet." This film was released in 1999. 
Dope
A hit at the 2015 Sundance Film Festival, in the U.S. dramatic competition category, Dope follows the life of a young black high school senior named Malcolm Adekanbi, played by Shameik Moore. "In the tough neighborhood of the Bottoms, high school senior Malcolm sports his own funky style while working hard to gain admission to a top college," the Netflix summary states. "But his clean-cut perspective take[s] an unexpected turn when a local drug dealer befriends him."
"Every generation has a teen comedy that speaks perfectly to the time it was made, whether it's Sixteen Candles, Clueless or Mean Girls," Brian Moylan wrote in the Guardian. "Dope, written and directed by Rick Famuyiwa (Our Family Wedding) is yet another update of the familiar formula."
Fruitvale Station
Fruitvale Station is based on the final moments of Oscar Grant III, played by Michael B. Jordan, a 22-year-old black father who was fatally shot by a San Francisco transit officer on New Year's Day in 2009. Grant was handcuffed on the platform of the station, and was shot unarmed. 
"This dramatic rendering of a real-life tragedy recounts the final hours of Oscar Grant, shot by San Francisco transit police on New Year's Day, 2009," the plot summary on Netflix states. "In portraying the energy Oscar brought to life, the film mourns the tragic loss of a unique soul."
The film is a captivating look into Grant's final moments, directed by Creed's Ryan Coogler. Fruitvale Station won the audience award and the grand jury prize at the 2013 Sundance Film Festival. 
Gideon's Army
Director Dawn Porter debuted the documentary Gideon's Army at the Sundance Film Festival in 2013, which focuses on "three recent law school grads prepar[ing] to represent some of the poorest of the poor," according to Netflix. Porter follows the three public defenders as they combat not only a justice system that has forgotten about America's poor in the South, but their career struggles as well.
Middle of Nowhere
Directed by Selma's Ava DuVernay, Middle of Nowhere, her second feature film, made waves at the 2012 Sundance Film Festival, with DuVernay winning the best director prize for the film. Starring Emayatzy Corinealdi, Omari Hardwick and David Oyelowo, this film is a must watch for fans of the drama genre.
The Netflix plot summary reads: "After her husband is sent to prison for eight years, medical student Ruby shelves her studies to focus on her partner's welfare as he serves his time."
Dark Girls
Dark Girls, a compelling documentary that focuses on racism, notions of beauty and classism, tells the real stories of black women across the United States. Released in 2011, the documentary discusses the deep-seated prejudices dark-skinned women face in society, by speaking with women, men and children. 
"This fascinating and controversial film goes underneath the surface to explore the prejudices dark-skinned women face throughout the world. It explores the roots of classism, racism and the lack of self-esteem within a segment of cultures," states the Netflix plot summary. 
What Happened, Miss Simone?
What Happened, Miss Simone? is a Netflix original documentary that highlights the life of Nina Simone, a prominent singer and civil rights activist. Known as the High Priestess of Soul, Simone's story is told with from a new, refreshing perspective. 
"Using never-before-heard recordings, rare archival footage and her best-known songs, this is the story of legendary singer and activist Nina Simone," states Netflix. The film was directed by Liz Garbus, known for the documentary on the late chess champion Bobby Fischer.