These Are 7 Free Apps You Need to Start Using Now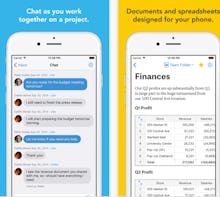 Quip/iTunes
Navigating the crowded waters of the app store is a weary task. As of July 2015, Apple's App Store had about 1.5 million apps available. While will cost you, there are plenty of free apps that work just as well at making your life easier.
Whether for better or for worse, our lives sometimes revolve around our phones. Research has found that young adults use their phone for about a third of their waking hours, the Huffington Post reported. 
Read more: 10 Best Apps for Productivity You Can Use on Your Smartphone so You Can Never Stop Working
Whether you want to upgrade your photos, get your life as organized as possible or just find cool things to do, here are six of the best free apps that you're not using.
Quip is a platform for documents of any kind. Using the app, multiple people such as your coworkers, roommates or friends can edit any project and also message each other if any questions or comments arise. It's also incredibly easy to import or export documents to Evernote, Dropbox or Google Drive. 
Like Quip, Our Groceries attempts to let people collaborate in real time. But unlike Quip, Our Groceries is all about your kitchen. With this app, everyone in the household can conveniently see — and then cross off — what needs to be bought. It also saves the ingredients in your favorite recipes. 
With our busy lifestyles, it's hard to remember to stay hydrated. Plant Nanny is a free app that reminds you to drink water with visuals of a cute little cartoon plant that you must "water."
Like its name implies, this app is a tool for helping you build mindfulness through meditation exercises. The customizability of the app is great for those who want to get into meditation, as it sends reminders and suggestions on how to relax.  
Vivino is like your friend who knows everything about wine, but right in your pocket. Just scan the label of a wine and Vivino gives you expert ratings, prices from other merchants and a list of what wines are trending in your area.   
This app gives you a complete list of all the concerts in your area based on your location. The app also syncs to your phone's music library and the bands you like on social media to give you personalized concert recommendations. (Bonus tip: It's great to see what concerts are happening when visiting other cities.)
Robinhood is a free app that purports to take the difficulty and cost out of stock trading. Robinhood tells you about the market in real time, lets you track your personal portfolio and also gives you free quotes.