Sarah Shahi to Play Nancy Drew in New CBS Show Based on Teen Detective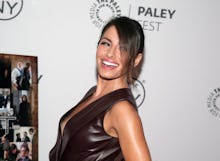 Andy Kropa/AP
Actress Sarah Shahi, who has previously appeared in Person of Interest and The L Word, has been cast to play a grown-up Nancy Drew in a new CBS reboot of the classic series of teen mysteries, reported Entertainment Weekly.
Shahi will star as a Nancy Drew, now a 30-something NYPD detective putting her sleuthing skills to the test in the Big Apple. Vanessa Ferlito will star as a fellow detective, Anthony Edwards will play Nancy Drew's father and Felix Solis will play an NYPD lieutenant, according to Entertainment Weekly.
Read: The Newest Incarnation of Nancy Drew Will Be Older and Nonwhite
The network made headlines earlier this year when CBS Entertainment President Glenn Geller announced that the upcoming reboot would not star a white actress in the title role. "She is diverse, that is the way she is written," Geller told the Hollywood Reporter in January. "[She will] not [be] Caucasian ... I'd be open to any ethnicity." 
The Nancy Drew reboot was first announced back in October. Shahi, who has been cast in the title role, is Iranian and Spanish.