How Did Beyoncé and Jay Z Meet? Superstars Share Different Versions of Their Love Story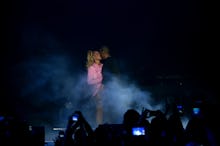 Jamie McCarthy/Getty Images
It's a love tale so famous, this generation will share it with their kids, perhaps before even divulging their own — and yet the two megastars it's about don't even agree on its beginning. If you ask Beyoncé and Jay Z how they first met, both the "Formation" singer and the hip-hop mogul will give you different answers. 
"I was 18 when we first met, 19 when we first started dating," Bey told Seventeen magazine in 2008, according to Vulture. That would mean she met Jay in late 1999 or 2000: a statement the hip-hop mogul contradicted during his 2007 interview with Charlie Rose, in which he said the two met "10 years ago," which would be two years before Bey's alibi. 
Read more: The Secret Meaning Behind Coldplay, Bruno Mars and Beyoncé's Halftime Performance
Regardless of whether they met in the 2000s or the late 90s, the two are now married — there have been some rumors of divorce and love affairs along the way — and have even gone on a joint tour entitled On The Run.
When the pair were photographed in a much larger group of celebrity musicians for Vanity Fair in November 2001, alongside the likes of Stevie Wonder, Gwen Stefani and Missy Elliott, Bey and Jay "were just beginning to try to date each other," according to the rapper's interview with Vanity Fair more than 10 years later. Perhaps that's why the two are so separated from each other in the photo — while Beyoncé is seen sitting in the lefthand corner, Jay Z is holding a mean mug while standing on the far right. 
However, the first documentation of Jay Z ever enlisting Bey's talents is when she was recruited at just 18 years old for a music video with his rap protégé Amil, called "I Got That." 2002 is when the pair's first critical hit would arise, creating the inevitable force the power couple has quickly become. The song is properly titled "'03 Bonnie & Clyde," officially making the duo the modern day, harder version of one of the most notorious American love stories to date.
The rest, of course, is history — a well documented history on Instagram, despite the couple being known for their unbreakable privacy. It's as if the two have perfected the art of giving the people just enough to make them constantly want more, without ever having to invite them behind closed doors. Check out some of the best photos of Beyoncé and Jay Z below: