8 '90s Nickelodeon Shows That Defined Your Childhood and Shaped the Person You Are Today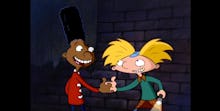 YouTube
Those who grew up in the '90s were blessed with some amazing television, with a multitude of the most compelling kids' shows coming from Nickelodeon. Today, The Splat — a nostalgia-inducing channel that debuted in October — features a plethora of animated and live-action shows from our Nick-loving childhoods. 
These series were not only entertaining, but they all conveyed important, fun life lessons as well. Here are eight of the most beloved '90s shows that, even now, are absolutely worth revisiting. 
Read more: 5 Times Nickelodeon Cartoons Tackled Real Issues
Hey Arnold!: The fourth-graders in Hey Arnold! were wise beyond their years, offering up poignant commentary on their everyday lives in an urban environment — which, for any kid living in a city, is wholly relatable. In the course of the show's airtime, Arnold and friends tackled several mature issues, including germaphobia, immigration and stoop baby abandonment. The series' iconic "Stoop Kid" episode can be watched in full below:
Rugrats: For a show about infants, Rugrats is surprisingly relatable to a broad range of ages. The series explored many serious topics through the eyes of these adventurous babies and toddlers. And, like Hey Arnold!, it was received very well. While the future-set spinoff All Grown Up — which saw the infants progressing toward their teenage years — wasn't as captivating, the Rugrats series remains a universally beloved Nick show.
Are You Afraid of the Dark?: The opening credits sequence remains one of the most unsettling things ever produced for a show aimed at children, and Are You Afraid of the Dark? doesn't stop there. Overall, it's a well-paced, very well-edited show that's still creepy beyond belief. As a live-action show, it holds some additional thematic depth with its creepiness, and certainly the only comparably freaky children's show was Goosebumps, based on the R.L. Stine series of books. 
Legends of the Hidden Temple: If you're like most fans, you're probably quite confident you could make it to the Shrine of the Silver Monkey in the iconic Nickelodeon game show Legends of the Hidden Temple. Unfortunately, some of the contestants didn't seem quite suited to tackling the puzzles and obstacles of the show's final challenge, and could seldom seem to avoid those temple guards — which always seemed to pop out of nowhere. The show, along with Hey Arnold!, will soon be reimagined as a TV movie. In the meantime, you can relive what was arguably the worst Temple run ever attempted below:
Rocket Power: For a lot of kids, Rocket Power depicted their first on-screen bromance — and it was also gender inclusive, with Reggie always a part of the group's daring thrills. These kids took on some of the most extreme sports with relative ease, including skateboarding, surfing and roller skating. However, at the end of the day, friendship always took priority over their fiercely competitive spirits. Good sportsmanship is a great principle to follow both within and outside of competitive sports, and Rocket Power exemplified this. Woogity woogity woogity. 
The Wild Thornberrys: Aside from being the family you most wanted to grow up with, The Wild Thornberrys taught kids an important lesson: You should always respect wildlife and nature. Episodes were wide-ranging in both geography and themes for the globetrotting Thornberrys, giving Liza — who could talk to animals — a chance to interact with various species and learn about environmental concerns throughout the world, and giving viewers the opportunity to learn more about those animals in the process. Of course, the show is perhaps best known for the antics of Liza's eccentric father, Nigel — and for good reason. 
All That — and then The Amanda Show: Both sketch comedies were essentially a PG version of Saturday Night Live, and both featured stars who remain relevant in the media landscape today — including Nick Cannon, Kenan Thompson (who is now on SNL, fittingly) and Gabriel Iglesias. All That featured all of the above, while The Amanda Show was the offset of Amanda Bynes' personal success in the format. Though Bynes hasn't appeared in a film since 2010's Easy A, and her personal life remains the fixation of many gossip sites, her sketch series featured some of the best humor for its subgenre.