There's a Serious Problem With Universal's New Harry Potter Ride — See for Yourself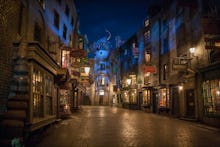 Harry Potter fans: Prepare yourselves for the ultimate joyride. 
Two months ahead of the grand opening of the Wizarding World of Harry Potter at Universal Studios Hollywood, one of the rides, which takes participants on a 3D broom ride through Hogwarts Castle and other key sites, got a little too real.
When employees of the theme park tested the ride, many became physically sick, felt nauseous and vomited, TMZ and a number of outlets reported Sunday.  
Stuart Craig, the award-winning production designer and creative genius behind the looks of the Harry Potter films who contributed to the design of the Wizarding World theme parks, told Deadline in 2007 that he wanted to create an accurate and immersive experience for visitors. 
"Our primary goal is to make sure this experience is an authentic extension of Harry Potter's world as it is portrayed in the books and films," said Craig.
But how real is too real? Here's the Potter ride in Orlando. Take a spin for yourself: