Meet Matriarch, the Gender-Neutral Shoe Line Making Brogues for Everyone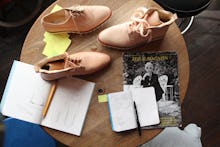 Any woman who has wanted to wear menswear-style dress shoes is probably familiar with the struggle. Men's shoes can be too wide and roomy, while women's shoes too narrow or too feminine or of lower quality. 
Sarah and Rachel Waxman have felt that struggle. 
The sister duo is coming to the rescue for themselves and stylish dressers everywhere with a new shoe line. The forthcoming line is called Matriarch, and it will offer shoes inspired by classic menswear styles — brogues, wingtips, oxfords — for women, but without the lower quality and feminizing details that often come when shoes are adapted to women's sizes.
"We've been getting some messages from people we don't know saying, 'Wow, this is exactly what I've been looking for,' and we're saying, 'Yeah, we know, because we are you as well,'" Sarah Waxman, who previously worked for Cole Haan and Reebok, told Mic.
Matriarch, which is launching a Kickstarter in March, has made its core mission accessibility. While the idea of menswear shoes for women was the starting point, the sisters plan on selling everything in "all foot sizes," ideally catering to any person's foot.
For most traditional shoe brands, the difference between men's and women's styles are so pronounced that it's rooted in how the shoes are manufactured.
"[The factories where shoes are produced] are known as men's factories and women's factories," Sarah Waxman said. "The women's factories are where they make high-heel shoes, things like that, but at a quote-unquote 'men's factory' they're used to only men being the customer, so it's just about driving that idea home that there are women who want to wear these shoes too." 
The Waxmans, who are based in New York City and Berlin, have been working with a men's factory in Portugal. "When you say, 'I want to make this style,' they say, 'OK, that's a men's shoe,' and you say, 'No, I want to make it in smaller sizes for women,' it takes them a little while to wrap their heads around that, because it's not really a typical request," Sarah Waxman said.
But that is exactly what the Waxmans are asking for: shoes designed for the comfort of all wearers, not just male ones.
"A lot of things trending nowadays in fashion are 'boyfriend fit,' 'boyfriend jeans,' 'boyfriend style' or whatever, and we're thinking: Why is masculinity the dominant point of view from which all else is extrapolated? Do we ever see something marketed towards men as 'girlfriend fit'? Why is it celebrated one way and not the other?" Sarah Waxman said. 
"Another thing that we noticed is that with seemingly identical products made for men and women, the versions made for men are often of better quality," said  Sarah Waxman. "You might see the same style shirt from one company, say a flannel, and it's just thicker and richer and obviously nicer in the men's sizes. We're just wondering, why is that?"
Matriarch isn't the first brand to bring traditional menswear apparel to women, particularly as gender lines are blurring by the day in fashion. Lines like Kirrin Finch, Saint Harridan and Bindle and Keep, some of which are funded via Kickstarter, offer clothes with the quality and style of menswear but a comfortable, accurate fit for women. 
But Matriarch is among the first to take on shoes, helping fill a niche for people who are genderqueer or transgender — who the Waxmans had "at the forefront our minds when we decided to make this project a reality" — as well as women who just like menswear.
It doesn't hurt that the shoes are eco-friendly, made from vegetable-tanned leather that's organic and will, according to Sarah Waxman, "disappear completely in a hundred years if you bury them." 
The shoes will also, ideally, be affordable. While the brand has not yet been funded, the initial four designs, which the Waxmans have spent more than a year perfecting, are production-ready, and the factory is on standby for the forthcoming Kickstarter. The sisters plan to sell the shoes primarily online (though they are open to working with retailers whose beliefs are aligned with their own, Sarah Waxman said) in order to keep their prices as low as possible. Sarah Waxman said that initial estimates put them at "about the cost of a Frye boot" — not cheap, but not unattainable designer prices either.
"We want to make quality for everyone," Sarah Waxman said. "That's why [our motto is], 'Quality is equality.'"