KKK Members Released by Police After Violent Scuffle in Anaheim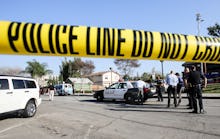 Five members of the Ku Klux Klan, apprehended Saturday during a violent scuffle in Anaheim, California, were released the following day by local police who said the group members were acting in self-defense.
"It was pretty convincing that the KKK members were attacked violently," police spokesman Sgt. Daron Wyatt said Monday, CNN reported. "We had to do the right thing." Police told CNN the decision to release the members was based on dozens of interviews with witnesses and an analysis of photographs and video footage.
Read more: 12 Gut-Wrenching Photos Show Aftermath of KKK Rally in Anaheim
The clash erupted during an anti-immigration rally when the group was set upon by counterdemonstrators. According to previous reports, Klan members arrived at the city's Pearson Park around 1:30 p.m Pacific, brandishing Confederate and white supremacist symbols and provocative signs bearing phrases like "White Lives Matter." 
Violence erupted almost immediately, with video footage capturing both sides brawling. When it was over, 13 people were arrested and three were stabbed, including one man by an American flag pole.
"Regardless of an individual or groups' beliefs or ideologies, they are entitled to live without the fear of physical violence and have the right, under the law, to defend themselves when attacked," Anaheim police said in a statement Sunday.