Erin Andrews Says ESPN Forced Her to Discuss Her Stalker and 2009 Hotel Video on Air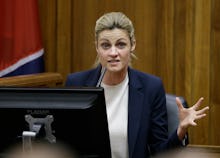 In September 2008, Michael David Barrett stalked sports journalist Erin Andrews, filmed a 4.5-minute nude video of her undressing in a Nashville Marriott hotel without her consent, and in 2009, released the video online. On Monday, Andrews testified in the $75 million lawsuit against Barrett and the franchise owner of the hotel at which the crime took place. 
Andrews not only claimed harm was done by the two parties named in the suit, but also named another, perhaps unexpected, source of violation: her employer at the time, ESPN. Andrews said ESPN forced her to discuss the incident on TV in order to continue working and indicated it didn't believe her account, Deadspin reported of Andrews' testimony.
The violation: "Probably for like three months, everybody thought it was a publicity stunt," Andrews recalled of the video's release — apparently including ESPN in that group, according to Deadspin. "The front page of the New York Post said 'ESPN Scandal.' To Fox News and CBS, everybody put up that I was doing it for publicity and attention, and that ripped me apart."
The video garnered a significant amount of attention. Penn State University computer science professor Bernard Jansen, who testified in the case, estimated that at least 16.8 million people have viewed at least some of the footage and that 1.5 people still view the video every minute, according to the Associated Press.
At least 16.8 million people have viewed at least some of the footage of Erin Andrew and that 1.5 people still view the video every minute.
Deadspin reported that Andrews testified her ESPN bosses told her that before returning to reporting, she needed to "give a sit-down interview." They strongly encouraged her to choose Good Morning America, a morning show under the same umbrella network as their own, Andrews recalled, noting that she opted to do the interview with Oprah Winfrey instead. She still wanted "nothing to do" with the experience, she said, and began hysterically crying before the appearance.
"I just want to go back to college football," Andrews recalled saying, before Winfrey comforted her and eventually conducted the interview. "I don't want to talk about what happened to me, why can't I just be normal? Like, why can't I go back?"
A bigger problem: Although uniquely public and apparently made worse by her professional affiliation, Andrews' general experience is hardly an anomaly: 1 in 6 women in the United States have experienced stalking during their lifetime and approximately a quarter of those survivors reported an element of cyber-stalking, according to research compilation by John Carroll University.
Andrews, who now works for Fox Sports and co-hosts ABC's Dancing With the Stars, joins a long line of female survivors who are discredited or disbelieved after speaking out about such an experience. Many have noted that disbelief is part and parcel of our sexist culture, even though studies show very few women lie about the sexual crimes they've survived. For example, only 2% to 8% of rape allegations are false, according to a research analysis by the National Center for the Prosecution of Violence Against Women.
This sexist treatment can also perhaps be attributed to the male-dominated climate that pervades Andrews' field. Women made up only 10% of sports journalists in 2014, a decline from 17% the year prior, according to a 2015 Women's Media Center report. Explicitly sexist treatment, especially sexualized objectification, is also well documented in the industry — and a topic Andrews has spoken about before.
While the public may have interpreted her experience as a "scandal," Andrews pragmatically summarized how she intends to handle the experience going forward. 
"This is my life," she testified. "And we want to figure out how this happened."
h/t Deadspin