5 Times Nicki Minaj's Clothing and Outfits Defied the Norm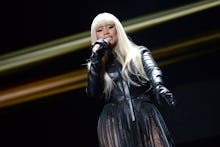 Scott Dudelson/Getty Images
Nicki Minaj isn't one to pass up a photo op. Even after the release of 2014's The Pinkprint and the transformation from outlandish and eccentric to natural and more laid back that came with it, Minaj knows how to slay the paparazzi better than most celebrities. 
Part of the reason Minaj's style has always been so bold is because she embraces every single aspect of her body and image. What's more, she isn't afraid to try out new looks — even when they're admittedly wacky at times.
Whether she's wearing a pink leotard and sporting bleach blonde waves or keeping it reserved in a matte-black laced dress, Minaj consistently maintains the ability to shock fans with her ever-changing look.
Read more: 8 of the Most Empowering Nicki Minaj Songs and Verses to Bring Out Your Inner Diva
Back when Minaj was still testing how high her wig could reach, in 2011, the exploding rapper attended the launch of a new Casio device in Times Square, in New York City, while sporting a blonde wig with streaks of cotton candy pink. 
"Never did I think I would be rocking the Marge Simpson," Minaj told People magazine that year. "But you know what, now that I am [wearing] them I realize that she was cutting edge and before her time. So shout out to Marge."
In case you needed any more proof Minaj is the fearless style icon and celebrity spirit animal inside us all, check out these five stunning looks she created to defy fashion's norms.
1. The 2011 American Music Awards
2. Casio Camera Launch, Times Square, New York City
3. The 2011 MTV Video Music Awards
4. The 2015 MTV Video Music Awards
5. The Real 92.3 Birthday Bash
March 1, 2016, 10:55 a.m. Eastern: This story has been updated.