Watch Stacey Dash Read Mean Tweets About Her Awkward Oscars Moment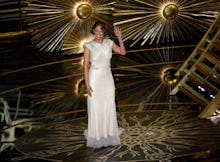 Chris Pizzello/AP
After actress and Fox News contributor Stacey Dash made a questionable appearance on the Oscars stage Sunday night to wish her "people" a happy Black History Month, she posted a video reading tweets of people dragging her through the mud in a Jimmy Kimmel "Mean Tweets"-inspired skit.
"I just walked off stage from the Oscars, where I got no applause, no boos, nothing," she prefaced the skit, published on her blog Monday. "People were, I think, awestruck, which was a little disappointing."
Read more: 2016 Oscars Were Somehow the Blackest of All Time — But Chris Rock Failed in One Key Way
She went on to read several of the Twitter mentions she received following the awkward Oscars cameo, like, "You looked foolish and sounded dumb," and, "You sucked on the Oscars like you do on Fox News."
But Dash left out some of the best tweets about her, post-Oscars:
"Here's the thing," Dash responded to the Twitter vitriol, "I do what I do because I want to do it and because I believe in it, and it has nothing to do with race and I wish you would stop saying that."
Dash was the subject of widespread criticism in January when she responded to the #OscarsSoWhite controversy on Fox suggesting to get rid of Black History Month and the Black Entertainment Television awards "if we don't want segregation."
March 1, 2016, 9:54 a.m. Eastern: This story has been updated.