Zendaya's Chi Campaign Is the Best Response to Her Many, Many Hair Haters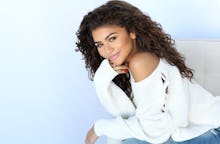 Continuing her legendary reign of being chronically unbothered by the haters, Zendaya is stepping out as celebrity ambassador for Chi Haircare. Appropriately, the slogan of the campaign is "Real is beautiful."
Read more: Clapback Queen Zendaya Fires Back at Her Mullet Critics
The 19-year-old singer and actress presented Chi's new ads on Feb. 23 and spoke to the crowd on the importance of staying true to oneself, something she's had to do again and again as critics slam her hair choices.
"We can't allow ourselves to get caught up in other people's opinions of ourselves because we are never going to progress or go forward or have control over who we are," she said, according to the Huffington Post. "So, we gotta be real and do what we wanna do, even if people don't like it. It's for you and you're supposed to love it."
Being real, in this case, doesn't mean having to only have your "natural" hair or look one consistent way; Zendaya is all about those famous hair changes, and the new Chi campaign is about changing up your hair endlessly — in healthy ways.
"I ruined my hair texture and my hair pattern and it took a lot of time for me to grow it back to a healthy state," Zendaya said. "I can now help other women, especially young women, to avoid that drama. I don't want my little nieces to have to go through what I went through."
The new campaign is helping women by featuring six different Zendaya dos, all shown in an E! behind-the-scenes video — including a topknot, retro waves, a low side ponytail and, of course, her natural hair, the crux of the campaign's message — on proud display. 
Below each photograph, all of which can be seen on Chi's Tumblr, are simple step-by-step guides to styling the look, further driving home the idea that real beauty should be able to be achieved by real people.
The star, who's also a newly minted CoverGirl spokeswoman, is proving her continued advocacy in breaking down tired beauty standards is as important to her as her fast-rising music career. (Anyone else still have "Something" on repeat?)