New Music From Kendrick Lamar in 2016? TDE CEO Posts Teaser for Release Schedule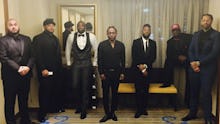 Instagram
Looks like Top Dawg Entertainment signees are cooking up some releases to join the wave of new music crashing ashore in 2016. The independent record label's CEO Anthony Tiffith shared a status report of his artists' forthcoming projects on Instagram Monday night, revealing new music could be arriving imminently from Kendrick Lamar, SZA, Schoolboy Q, Isaiah Rashad, Jay Rock and Ab-Soul.
"Shit about to get nasty real soon," Tiffith captioned his Instagram post, which shows a whiteboard with each artist's name and the current status of their music. "I told y'all I got y'all in 2016. #TDE"
Read more: 7 Kendrick Lamar Lyrics From 'To Pimp a Butterfly' That Prove He's a Crusader in Rap Music
While the status report shows Schoolboy Q's forthcoming album or mixtape is in the sample clearance process, Rashad and SZA are in the third and fourth stages of the creative process of their recordings, respectively. Meanwhile, Ab-Soul is in the mixing stage, and Jay Rock is apparently still in the hospital. Kendrick Lamar gets a cryptic "???" on his music release status for 2016.
Tiffith's post on Monday night also revealed his label does in fact have two new artists, listed only as John Doe 1 and John Doe 2 on the whiteboard — looks like someone knew they would be dropping a picture of what's to come on the 'gram. 
As for Black Hippy — the West Coast supergroup of rappers including Lamar, Schoolboy Q, Ab-Soul and Jay Rock, Pitchfork reported — it appears as though fans will have to wait for their highly anticipated next collaboration. The initials "BH" is listed under a headline "2017 possible release," with the word "praying" written as the status report next to it. Meanwhile, Jay Rock told HotNewHipHop in November the group is focusing on their solo pursuits rather than a group album, saying, "I'm tired of y'all keep asking me about Black Hippy. For real, everybody's just working right now."
Could things have changed since then? Will Black Hippy get in the studio after each heavyweight rapper releases their own album in 2016? Will SZA be featured on every single album TDE releases? Perhaps Tiffith is right — all we can do is pray.