Mothers Staged a Breastfeeding Sit-in After a Nursing Mom Was Asked to Leave a Food Court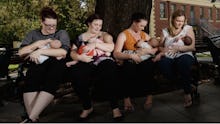 On Friday a bunch of breastfeeding moms staged a demonstration at a marketplace food court in Bendigo, Australia, after a woman was asked to leave the area for publicly breastfeeding her 7-month-old son, Zaydd, a few days before.
Luci White, 22, was in the midst of feeding when, due to customer complaints, an employee asked her to retire to the designated nursing and changing room.
"The older gentleman said, 'You can't do it in public, it's inappropriate,'" White told the Bendigo Advertiser. 
"And the mum in her 30s said, 'That is so rude with children around.' I couldn't believe it. Why would your child find it so weird to see a baby breastfeeding?" White asked.
Appalled by the incident, White's friend, Samantha Purden, posted about it to the Facebook group Bendigo Mums, appealing to all her fellow mothers to "stage a mass protest."
Then other local mothers, such as Michelle Van Zyl, started spreading the word via social media too.
Purden followed up with a demand that the marketplace offer more than an apology.
What White got was far more than an apology, at least from supportive local mothers. Outraged by the disrespect shown to White, breastfeeding women in the area came out of the woodwork in a show of support, demanding the right to breastfeed where and when they please, with a protest that took the form of an en masse breastfeeding demonstration.
That's what happens when you poke mama bear.