Esperanza Spalding Takes Us Inside Her New Album and Her Deep Love Affair With Jazz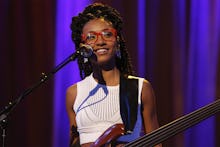 In 2011, jazz musician Esperanza Spalding stunned viewers of the 53rd Grammy Awards by taking home the award for best new artist. Jazz pianist and singer Norah Jones had won the award in 2003, but no one expected Spalding to win. How could a double bassist and singer beat out Justin Bieber, Drake and Florence and the Machine? 
The Grammys clearly saw something top 40 audiences didn't.
Spalding's next album after the Grammy, 2012's Radio Music Society, won the Grammy for best jazz vocal album and best instrumental arrangement accompanying vocalist for "City of Roses." This time, however, she was not alone, but part of a resurgence, in bringing jazz into popular culture alongside Robert Glasper's chart-topping jazz fusion spectacular, Black Radio. 
That resurgence has since grown into a veritable movement, led by Kendrick Lamar's spontaneous hip-hop jazz on To Pimp a Butterfly, Flying Lotus' Herbie Hancock collaborations on You're Dead and Kamasi Washington's The Epic. Unfazed by her genre's newfound popularity, Spalding is still playing the same game she has since her first album Junjo — producing music meaningful to her.
Read more: 
Spalding's new album, Emily's D+Evolution, will be released Friday, and the songs that have already been released — the abstract funk of "Good Lava" and the empowering "One" — have been gorgeous.
When Mic spoke with Spalding, there was a certain humility to her responses that seemed a byproduct of the amount of hard work. She attended the Berklee College of Music, and her conversation is imbued with an academic as well as a soulful understanding of music. Her success seems the result of a love story with jazz, and that which listeners love about her music is love itself.
Mic: To begin, your music is phenomenal. What inspires your music?
Esperanza Spalding: It would take way longer than this interview for me to get into all my influences! I would like to just say that jazz resonates with my spirit and makes me thoroughly happy, tickled and delighted. Jazz is delicious. It challenges my brain and my ears. I like to study the elements of jazz and how it all goes together. I never have enough time to study. When I can spend four hours with a piece on a Thursday night, just that access nourishes me. In terms of music at large, I'm into what comes into my orbit. I have a lot of super lovely friends who are into a wide variety of music.
Your song "Black Gold" is a great example of what I think you do best: understand a genre and compose music based on your understanding of the genre.
ES: It's coincidental, really. This reminds me of a sign that my teacher had on a wall: "I don't always sound this good, but when I do it's because I practice." My relationship to music is visceral. My songs are, yes, the products of years of listening to music and of absorption but of much less analysis than you think. My songs are much more the product of my natural absorption of music than anything else.
Your bands have been incredible. Every band leader has a way of putting a band together. Miles Davis had his way. John Coltrane had a way of bringing together odd types to produce greatness. How do you produce yours?
ES: My way is not very complicated. I have to like them. They have to like what I do. Beyond that, it's about what palette do I want to achieve and how it all will come together. It's a feeling that I have to have about playing with my bandmates. It's just something that I know. 
"I'm spending much more time on non musical stuff these days than most of my musical heroes. It's just the world that we live in today."
You and your bands produce music that feels very danceable. 
ES: Danceable jazz?! I wish that I had the time to give you a list of great danceable jazz! I'm grateful that you feel this way about it, I really am. What's most important to me though is giving my all to my music, more than anything else. I'm spending much more time on nonmusical stuff these days than most of my musical heroes. It's just the world that we live in today. What I'd like to do is to create pillars for the generations of jazz players to come. 
What do you want the audience to take away from your new album, Emily D+Evolution?
ES: It's my favorite singing so far. I'm really proud of it. When I listen to any song, whether a jazz song, Beyoncé or an MF Doom song, it communicates to me. I want to be able speak to my audience through my songs. I'd like my audience to have fun with it. I'd like it to speak to their hearts, minds and to their feet.