30 Black Students Kicked Out of Donald Trump Rally in Valdosta, Georgia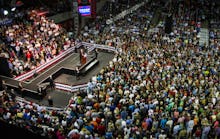 Thirty black students at Valdosta State University were ejected from a Donald Trump rally Monday in Valdosta, Georgia.
According to the Des Moines Register, security said they were only Trump's orders to remove the students, who were standing silently atop bleachers at the event. In a video posted to Twitter, students can be heard complaining they had valid tickets to the rally.
According to CNN, a member of Trump's Secret Service detail was involved in overseeing the students' removal, but did not participate in the students' ejection. One agent told CNN the students were "asked to leave by the host committee and local law enforcement," adding, "We do not escort protestors (or) disruptors out of events. (It's) not a Secret Service function and (campaign) staff knows that."
Trump's campaign team is denying they had anything to do with the order.
"There is no truth to this whatsoever ... the campaign had no knowledge of this incident," campaign spokeswoman Hope Hicks told the Register.
"We didn't plan to do anything," Valdosta State student Tahjila Davis told the Register. "They said, 'This is Trump's property; it's a private event.' But I paid my tuition to be here."
Earlier in the day at another Trump rally in Radford, Virginia, a Secret Service agent choke-slammed Time photojournalist Chris Morris to the ground as he attempted to photograph Black Lives Matter protesters. On more than one occasion, Trump's fans and members of his security detail have been caught on camera using violence to deal with demonstrators at his rallies, and Trump has seemingly encouraged the use of physical force.
Over the weekend, Trump found himself on the receiving end of harsh criticism from across the political spectrum including 2012 Republican presidential nominee Mitt Romney after refusing to disavow the Ku Klux Klan on CNN's State of the Union.