How to Eat Healthy When You're Broke AF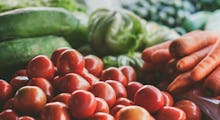 Sven Scheuermeier/Unsplash
Eating healthy and saving money sounds like a difficult scale to properly balance. Although organic and lower caloric foods can cost more, eating healthy doesn't have to be a bank-draining, coupon-clipping experience. All you need is the right game plan. 
It's proven — and common sense — that cooking at home is cheaper than eating out at restaurants. And as a bonus, those who regularly cook at home not only make healthier meals, but also eat fewer calories when dining out, according to Today. 
Shopping for good-for-you ingredients doesn't always mean buying the most expensive organic product on the shelf. First of all, don't go to the grocery store on an empty stomach, as studies have found people who do so tend to buy more delicious-sounding junk food when hungry, according to Live Science. 
Read more: 7 Healthy Lunch Ideas That Require 5 Ingredients or Less
When comparing prices, pay closer attention to the unit price or cost — which tells you how much you're paying per ounce, gallon or other unit of measurement — rather than the final sticker price, according to Live Science. 
There are many healthy options that cost less than a dollar, according to Greatist. Instead of buying steak, opt for beans, eggs, lentils and chicken breast for protein. Whole grains like brown rice and quinoa are cheap and filling options. Greatist found some of the cheapest vegetables and fruit to be kale, apples, bananas and carrots. 
Another option is buying fresh produce when it's in season (and at its lowest price) and then storing it in the freezer, the Kitchn reported. 
Frozen produce has also been found to be just as nutritious as their fresh counterparts, according to Greatist. Just go easy on the water and temperature when cooking up these frozen options. 
Once your fridge and freezer are all stocked up, a hack to eating healthy all week without being an inconvenience to your schedule is by planning and then preparing meals in bulk, like on Sunday. That way, you don't have to buy lunch during the workweek and you'll have no excuse to log onto Seamless or eat out for dinner. 
When you feel like you're hitting an unappetizing bump in the road, spend a few minutes browsing budget food blogs like Broke Ass Gourmet and Not Eating Out in New York for some inspiration your taste buds and wallet will agree on.