'Whiskey Tango Foxtrot': Release Date, Trailer and Reviews for Tina Fey's New Film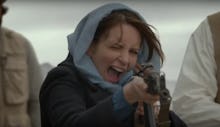 Mic/YouTube
Whiskey Tango Foxtrot, Tina Fey's war comedy and first film since 2015's Sisters, will be released on March 4. According to early reviews, you might be better off re-bingeing Unbreakable Kimmy Schmidt.
Fey plays Kim Barker, a war correspondent sent to Afghanistan and Pakistan during Operation Enduring Freedom. The script was adapted from The Taliban Shuffle: Strange Days in Afghanistan and Pakistan, a memoir written by the real life war correspondent Kim Barker, formerly of the Chicago Tribune and currently of the New York Times. Coincidentally, when New York Times book reviewer Michiko Kakutani reviewed Barker's memoir in 2011, Kakutani described Barker's depiction of herself as "a sort of Tina Fey character."
Read more: Tina Fey, Amy Poehler Do 'Meet Your Next Wife' Skit on 'Saturday Night Live'
"If people want to mix me up with Tina Fey and her character, that's going to happen," Barker told Chicago Tribune's David Heinzmann on the difference between the real and fictionalized version of herself. "But I know who I am and my friends know who I am ... they know I'm kind of bemused by this whole idea."
The critics, however, have mixed feelings on the film. The New Yorker's Richard Brody wrote, "Distinguishing the American armed forces' good intentions from wise and well-conceived actions, the filmmakers keep to the surface of the bluntly rowdy story while conveying apolitical layers of regret and exasperation, in wanly comic and affectingly melodramatic action alike," while also taking note of the film's "near uniformly Anglo casting."
The Hollywood Reporter's Todd McCarthy criticized the film's lack of specificity in regards to the environment, writing, "The film could have been about any high-stakes modern profession." McCarthy also compares Whiskey Tango Foxtrot to the directors' previous films — 2010's I Love You Phillip Morris and 2011's Crazy, Stupid Love — saying "Glenn Ficarra and John Requa enjoy just scattershot success in hitting their seriocomic targets, scoring from time to time with their more coarse and outlandish gambits but rarely inducing one to take what they're watching very seriously."
Variety's Justin Chang panned the film for being "cynical for all the wrong reasons," writing "despite the script's direct acknowledgment that it's telling a 'white-American-lady story,' the movie never quite shakes off a glib, incurious outsider's perspective that can tilt into outright cluelessness, particularly where some of its more egregious casting choices are concerned." Chang also noted that "there's a difference between seeing the darkly funny side of our nation's recent geopolitical misadventures and twisting said misadventures into a blandly crowdpleasing formula."
Entertainment Weekly's Leah Greenblatt wrote, "What work better in the movie are mostly smaller moments: the jokes that land, the rapport between the reporters, and all the weirdly ordinary ways people manage to find a new normal, even in the most WTF circumstances."
Whiskey Tango Foxtrot also stars Billy Bob Thornton, Alfred Molina, The Wolf of Wall Street's Margot Robbie and The Hobbit trilogy's Martin Freeman.
Watch the trailer below: