Model Ajak Deng Changes Her Mind About Retirement to Fight Industry Biases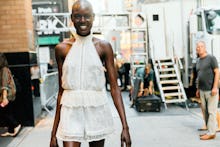 Sundanese-Australian model Ajak Deng has decided to give modeling a second go, just days after she announced she was leaving behind the fashion industry's "fakes and the lies." 
"I was selfish to only think of myself," she wrote in an Instagram post. "I thought giving up was easier but I am going to stay and fight this war with kindness, forgiveness, love and support to all humanity."
The best part? She just popped up in a gorgeous new cover shoot to begin her new era.
Modeling is not an easy gig. On Wednesday, Deng surprised her fans by announcing via Instagram she was done modeling. "My life is too short for this dramatic life," she wrote, which left many like i-D to speculate the she was fed up with the industry's racism. Deng had voiced her opinions about fashion's biases before, such as when she accused Balmain of dropping her because of her race.
There are plenty of other challenges to being a professional model that might have prompted Deng's sudden departure, from fickle personalities and big egos to long hours. She didn't specify what she meant by her initial comments, writing only, "I am a fighter and a go getta, I will figured out what to do next," in a follow-up Instagram post.
Overwhelming response inspires a change in heart: Following Deng's announcement, the support was huge. Her initial post racked up over 600 comments, with fans posting comments of encouragement and also sadness.
Many pointed out her work was an inspiration to others, including Deng's sister.
"I just want to say [to] never give up on your dreams even when you encounter people who try to limit your progression to greatness," Anyang Deng wrote.
Importantly, others pointed out that the racial bias Deng had faced in the fashion industry can be best addressed when models of color like Deng stay and thrive.
"I am sad to lose one of the most beautiful top models from my country because of these ignorant people in fashion who forgot what a fashion show consist of," fellow model Nykhor Paul wrote on Instagram in response to Deng's news. "We black models have to stand together and support each other without fear of losing your job or being label as the big mouth angry black person..."
Realizing your impact: Over the weekend, while traveling for Milan Fashion Week, Deng posted another Instagram photo saying she had a change of heart, in part from inspired by the encouraging words from her sister and fans.
"Yes sure giving up is easier, but who will fight the war that we are so in denial about?" she wrote. "I thought giving up was easier but I am going to stay and fight this war with kindness, forgiveness, love and support to all humanity. We are all beautiful and deserved to be respected."
She also recalled that in her first season modeling at Milan Fashion Week, "no one booked me and I was so destroyed because they won't booking black girls like me that season and thank god for my sweet and encouraging agent @meansss who told me that there was absolutely nothing wrong with me and that I was one of the most beautiful girl in the world, so wiped off those tears, come back to New York and let's change their minds one day at a time."
In the end, Deng came to believe those words and has gone on to become a face of Plein's brand. Now she's back again, ready to "fight the war" that's now the talk of the industry.