Nickelodeon Is Reviving 'Legends of the Hidden Temple' and 'Hey Arnold' as TV Movies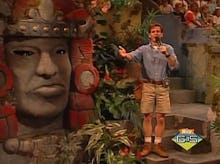 Two '90s favorites are returning to Nickelodeon over the next two years — albeit not in the way they were first aired.
Variety reported the kids' network is reviving Legends of the Hidden Temple, a game show that aired from 1993 to 1996, as a fictional TV movie. Instead of following colorful teams of real kids through a series of Indiana Jones-esque games, the movie will follow three siblings as they "conquer a series of obstacles to remain alive," according to Variety.
Additionally, as previously announced, Nickelodeon is also bringing back Hey Arnold! in TV movie form — though Variety added the movie will be split into two parts.
Hey Arnold! aired on Nickelodeon from 1996 to 2004, even releasing a feature film in theaters in 2002. The series ended on something of a cliffhanger: Arnold, long since orphaned after his adventurer parents went missing, found a map that provided clues as to where they might have gone. The new movie, according to Variety, will pick up where the show left off.
Legends of the Hidden Temple is a more surprising pick for a revival, particularly in this format. While there's undoubtedly nostalgia for the show — if the amount of memorabilia for it is any indication — it also ran for a relatively short time compared to something like Hey Arnold!.
Yet the choice is remarkably savvy: Should the movie do well with parents who watched the show in the '90s and the children they've had since, it could provide fresh ground for a potential revival of the game show.
"We are very selective about the series, what we go back to and think about how we can take them and make them special," Chris Viscardi, Nickelodeon's senior vice president of content development for franchise properties, told Variety in November. "It's really important to us to be really consistent with the storytelling that was there long ago on the series but also work to reimagine it, even just a little bit, and make it appealing and thrilling for today's audience."
The Hey Arnold! movies are expected to hit TV in 2017, while Legends of the Hidden Temple is scheduled for late 2016.