'London Has Fallen': Release Date, Trailer and Plot Details for the 'Olympus' Sequel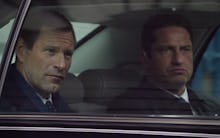 Mic/YouTube
London Has Fallen is the delayed sequel to the 2013 action thriller Olympus Has Fallen. Both films star Gerard Butler, Aaron Eckhart, Morgan Freeman, Angela Bassett and Melissa Leo. The two films share a similar plot; in the first film, terrorists attempt to assassinate the president by bombing the White House, whereas in the second film, world leaders gather in — you guessed it — London to attend the funeral of the British prime minister, who has died under mysterious circumstances.
While the film critics have yet to weigh in on the sequel, reviews for the first film don't bode well for the sequel's reception.
Read more: 'Whiskey Tango Foxtrot': Release Date, Trailer and Reviews for Tina Fey's New Film
CinemaBlend's Doug Norrie predicts the Rotten Tomatoes score for the sequel will be 42%, a notch below the 48% rating of the first film. "London Has Fallen won't rate high with critics, but I doubt that was ever the central idea," Norrie said. "It's best to just get folks to the theater and have fun with a bunch of boom-booms." 
According to Box Office Mojo, Olympus Has Fallen grossed $161 million worldwide. Pro Box Office's Daniel Garris predicts London Has Fallen will have an opening weekend gross of $19 million, befitting from a "lack of strong options for adults in late February and early March this year." With that said, Garris also notes that, despite the surprise success of the first film, London Has Fallen is the "sequel nobody is really asking for" with impressions "performing quite softly on Twitter thus far."
London Has Fallen will be released Friday. Watch the trailer below.