When Is the 2016 Republican National Convention? Date and Time for GOP's Big Night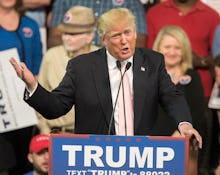 Mark Wallheiser/Getty Images
Super Tuesday has arrived. With billionaire businessman Donald Trump poised for a strong showing on one of the most crucial days of the election season, the Republican presidential candidate is looking like a lock to become the party's nominee for president at the Republican National Convention. 
The 2016 Republican National Convention will take place on July 18-21 in Cleveland, Ohio. The primary venue for the Republican National Convention will be the Quicken Loans Arena, the northeast Ohio sports and entertainment facility that hosts the professional basketball team, the Cleveland Cavaliers. The arena is the third-largest arena in the NBA, seating more than 20,000 people, according to the Cleveland 2016 Host Committee. 
Read more: Trumpocalypse: The GOP Establishment's Worst Nightmare Is Now Coming True
Ohio, one of the more important states on the presidential campaign trail, receives 18 electoral votes. A candidate is required to obtain 270 electoral votes to win the presidency. The last presidential candidate to be elected without winning Ohio was the late John F. Kennedy, over 50 years ago in 1960. The last few presidential candidates that won Ohio went on to become the eventual President of the United States.
Wondering how to get tickets? The Republican National Convention is not open to the general public, and is only open to party delegates. The political conventions are only specifically for delegates to attend; delegates are elected individuals from each state chosen to represent their states at their party conventions. 
Here is the guide to watching the Super Tuesday contests, which may very well determine who will be accepting the nomination in Cleveland in July. 
Correction: March 1, 2016