This Deaf Student's Classmates Are Happily Forgoing Recess to Learn Sign Language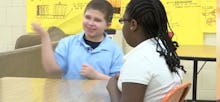 Rhemy Elsey, a fifth-grader at Mark Bills Middle School in Peoria, Illinois, was born mostly deaf. While he hears partly with the help of a cochlear implant and an American Sign Language interpreter, his school is also providing fellow students with the tools necessary to reach out. 
According to WMBD, in exchange for giving up one blessed recess a week, students at Mark Bills are offered the opportunity to learn and improve their ASL skills so they can better communicate with Elsey and other deaf and hard of hearing students. And they're taking Elsey up on it.
Read more: It's the Promposal That Will Make You Believe in Prom Again
"It's like they want to be like me," Elsey told the outlet. 
According to Elsey's interpreter, Tammy Arvin, the ASL club allows students to learn about deaf culture in a fun, unobtrusive way.  
"They don't necessarily realize they're learning ... about deaf culture by participating in this club," Arvin told ABC News. "It really gives them a perspective on this other culture within the U.S. that they previously weren't aware [of], so they're benefiting ginormously just in terms of learning about diversity and having a broader perspective on the world around them."