Drake's Instagram Photo Is Proof the Release Date for 'Views From the 6' Is Near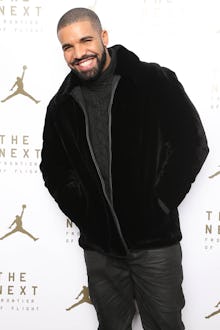 Omar Vega/AP
On Monday, Canadian powerhouse rapper Drake shared a photo to Instagram that hints Views From The 6's release could be imminent. Some fans took the photo, which shows a member of Drake's entourage leaving Bed Bath & Beyond with a cart full of temporary bedding, to mean the rapper is spending nights in the studio to finish the recording process. Perhaps as proof of that theory, Drake captioned the post, "Home Stretch." When the album does surface, the long-awaited LP will mark the heavyweight artist's fourth studio album.
"Drizzy sleeping in the studio you know it's almost time," wrote one Instagram user, commenting on the post. "You know Views boutta be fire when this boy sleepin' in the studio with 40," wrote another Instagram user.
Read more: These Drake Quotes Prove He Knows Exactly What the Internet Wants
And on Tuesday, the rapper followed up Monday's post with a second image, which appears to show a sleepy Drake leaving a building under the cover of darkness — though it's unclear if the building in question is a recording studio. "Bad Chargie," Drake captioned the followup Instagram post. "Home Stretch."
Reacting to Drake's Instagram updates, some users migrated to Twitter, where they expressed a clear readiness to welcome Views.
Drake fans have been on edge in recent months, as they eagerly await the arrival of the rapper's upcoming studio album. The tension has perhaps been heightened by the fact that the timetable for waiting on Views has been less than concrete. On stage during a News Year's eve performance, for instance, Drake promised fans the LP was "coming very soon," though he offered few details on an exact delivery date. 
Yet despite the teasing photos on Instagram, fans could still have several weeks to wait on Views, as the album is reportedly slated for an April release, according to the Verge. Other publications, namely Hot New Hip Hop, has further speculated that fans can expect an April 16 release, as the numerical date 4/16/2016 would correspond to the 416 zip code of Toronto, Canada, Drake's hometown. 
"Views is going to break the internet in half once it drops," music blog publisher Derrick "Biz" Lawrence told Mic in January. "Drake is Drake. It's going to break the internet worse than when Kim Kardashian released her last set of photos ... It's definitely going to be something different."
Of course, the artist is free to release material at his own discretion and on his own time. Yet photographic evidence of an end in sight to the recording process is good news for those fans already tired of waiting. 
In the meantime, super fans can calm their eagerness with other Drake content — here's the rapper's epic showing in Rihanna's two-part "Work" music video, for instance, or head here to delight in Drake lyrics transposed on cake. 
Correction: March 1, 2016