Cara Delevingne Slams Facebook for Promoting "Bullying" With New Reactions Features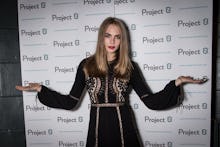 Vianney Le Caer/AP
Model and actress Cara Delevingne spoke out about cyberbullying this week — and she had some strong words for Facebook. In an interview with the Sunday Times Style magazine, Delevingne said the introduction of a "dislike" button on Facebook could have harmful effects, the Independent reports.
Read more: Cara Delevingne's Reason for Leaving Modeling Shows How Toxic Beauty Standards Have Become
"If you can go around disliking someone's pictures, that is going to set off a whole new wave of bullying," Delevingne said. "These companies are making so much money, they just want the new thing ... If it's something that is going to cause people harm, I really think we should steer against that."
Facebook recently rolled out a series of new reaction options — in addition to the Like button, users can now respond to posts with "love," "haha," "wow," "sad" or "angry."
While there's still no option to straight-up dislike something, the new, varied reactions mean there are potentially even more ways for teens to hurt each other's feelings on social media.
Delevingne is likely not alone in thinking that Facebook should keep things positive. "Like away," she said, "but if you have a bad thought about someone, keep it to yourself."