SXSW 2016: Dates, Lineup and How to Watch South by Southwest Online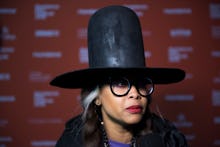 Arthur Mola/AP
South by Southwest 2016 takes place in Austin, Texas, from March 11 to 20; the festival spotlights up-and-coming musical acts, films and tech innovations with conferences, trade shows, panels, concerts, screenings and more. It's a pop cultural smorgasbord that spans more than a week and will leave attendees exhausted with its sheer volume of activity.
"The conference offers unmatched access to ideas and global viewpoints on an increasingly borderless industry," a SXSW press release said. "It aims to educate and inspire musicians and professionals alike, with sessions attended by over 30,000 registrants and showcasing artists."
Read more: If You Want to Understand What's Become of the Music Industry, Take a Look at SXSW
There's an enormous number of things to do and see at the event. To attend, you'll need a badge: There are a number of different badges at different prices for different sections of the conferences and festivals, with cheaper iterations available to those who aren't prepared to drop $1,745 on a pass to all of SXSW's many programs. 
There's also SXSW On, where anyone who isn't heading to Austin can check out an array of the event's panels, presentations and concerts on livestream.
2016 is SXSW Music's 30th year and will include artists from around the world — some of which are already super famous, others that are unknown. Drawing media attention and music lovers from all over, SXSW is a prime exposure opportunity. 
Events are scheduled for March 15 to 20; notably, Erykah Badu, Neon Indian, up-and-coming R&B singer Kelela and Spanish rockers Hinds will perform at the Mohawk in celebration of House of Vans' 50th anniversary. Additionally, Ra Ra Riot, Bloc Party and the Cult will be playing SXSW 2016, as will Alex G, Anamanaguchi, Caveman, Crystal Castles and Yuck.
The list of artists performing at SXSW is as awesome as it is long. The lineup features some impressive acts — a full list is available here. 
Correction: March 2, 2016