Adele Concert Video: Singer Convinces a Man to Accept His Girlfriend's Proposal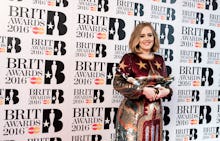 Mike Marsland/Getty Images
Adele kicked off her tour in Belfast on Monday, aka leap day, the one day every four years in which tradition deems it OK for women propose to their beaus rather than vice versa. Sure, it's considered a rather sexist tradition, but Adele isn't above helping a fan out in their time of need, and was determined to get a woman's boyfriend to marry her during her concert Monday night in Ireland's capital. 
"I asked him already today," the fan tells Adele in front of a cheering crowd in a video posted to YouTube. "And what did you say?" Adele asks the boyfriend in the crowd, who traveled from Essex to see her perform with his girlfriend. "He said, 'Maybe in a little while,'" the woman tells Adele, laughing. 
Read more: Adele May Have Dominated Pop in 2015, but Justin Bieber May Have the Last Laugh
Of course, Adele isn't one to take no for an answer: "You need to say a proper 'yes,' love." Adele continues, "You have to say yes ... on the count of three, everyone say, 'Come on, Neal!"
The video then shows the boyfriend out in the crowd, happily nodding his head. Adele nearly squeals, jumping up and down repeatedly before embracing her new gal pal. 
What a way to kick off a tour. Check out the romantic moment below: