Panorama Festival 2016: Dates, Lineup and Ticket Info for NYC Concert Series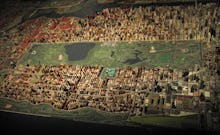 Beth J. Harpaz/AP
Coachella's East Coast sister festival Panorama announced Tuesday its very first lineup. The headliners for the three-day festival are Arcade Fire, Kendrick Lamar and LCD Soundsystem. Here are the festival's dates, full lineup and info for how to get tickets to this year's New York City concert series.
After battling it out with New York's staple festival Governors Ball, event producing company Goldenvoice confirmed Panorama's summer arrival in January. Panorama will take place on Randall's Island in New York City from July 22 to July 24. General admission passes for the full weekend cost $369 and go on sale Friday. There are no single-day passes. 
Read more: Music Festivals in 2016: Full List, Headliners and Dates
On Friday, Alabama Shakes and Major Lazer will perform with Arcade Fire. On Saturday, and alongside Lamar, will be Blood Orange and Sufjan Stevens. On the last day, Sia and Kurt Vile are slated to perform.
Festivalgoers can buy passes to be able to get to the festival via ferries or shuttles from Brooklyn.  
The festival — which described itself as "three days of music, art, technology and local food offerings" in a statement — is named after the Panorama of the City of New York, which is an almost 10,000-square-foot model of the city in the Queens Museum.