Who Will Hillary Clinton Choose as Her VP? Here's a Shortlist of Potential Running Mates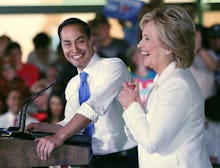 Erich Schlegel/Getty Images
With Hillary Clinton emerging as the Democratic frontrunner in the race toward the 2016 presidential election, it's time to start thinking about whom she might select as her running mate, should she win her party's nomination at its national convention in July. 
She hasn't named her vice presidential candidate yet, but speculation has been swirling for some time. There are many possibilities: Massachusetts Sen. Elizabeth Warren, Ohio Sen. Sherrod Brown — even her current opponent, Vermont Sen. Bernie Sanders.
Read more: Donald Trump VP Nominee: Who Would Trump Pick as His Vice Presidential Running Mate?
That seems unlikely, but Clinton may well opt for someone whose politics and professional track clock with Sanders' progressive ethos. Here are three people whose names have been tossed around as potential vice presidents.
Julian Castro
Castro is the secretary of U.S. Department of Housing and Urban Development; he is also, according to the Los Angeles Times, a distinct possibility when it comes to Clinton's vice presidential choices. When he campaigned for Clinton in Iowa, the Times reported, Castro — whose background and rapid rise within the party have prompted people to compare him to President Barack Obama — spoke in cities throughout the state, warning Latino populations of the threat posed by a Republican presidency. 
According to Politico, he's spent time building bridges within Congress, a strategy that could serve him well as second in command to a president Republicans would likely see as an extension of the Obama administration. He's also much younger than Clinton; at 41 (he turns 42 in September) he could help sway the younger voters who have, so far, gravitated toward Sanders. 
And as Reuters reported in October, Clinton has already pledged close consideration of Castro when considering running mate candidates. "I am going to look really hard at him for anything, because that's how good he is," she said of Castro, at a meeting of the U.S. Hispanic Chamber of Commerce held in San Antonio, Texas. Castro later endorsed her.
Clinton and Castro then hosted a "Latinos for Hillary" rally in the city — as her running mate, Castro could help swing Clinton the Latino vote that will be decisive in the 2016 election. 
Tom Perez
Perez, the U.S. secretary of labor, is another buzzed-about contender for the coveted vice presidential slot, especially in recent days as Clinton re-establishes her lead over Sanders. Perez, some have speculated, could help the Clinton campaign to attract the party's progressive element, a goal he highlighted when he endorsed Clinton in December. 
Before joining the Obama administration in 2013, Perez was assistant attorney general for civil rights at the Department of Justice; he fought against discrimination in housing, education, employment, voting and law enforcement. 
His parents are both Dominican immigrants; this, combined with his experience working for labor rights means he is an ideal choice to reach some of the key voter demographics whose votes Clinton will need to secure the presidency. Indeed, the Washington Post has called him "one of President Obama's top emissaries to liberal, labor and Latino constituencies."
Perez has already helped her there, rallying Latino support for Clinton leading into the South Carolina primary, which proved a major victory for her.
Cory Booker
Another Democratic up-and-comer who turned out for Clinton in Iowa was Booker, former mayor of Newark, New Jersey, and current junior senator. As the Washington Post reported, Clinton and Booker made an appearance at Cedar Rapids' Mt. Zion Missionary Baptist Church, where Booker delivered a sermon to the majority African-American members. 
Afterward, Clinton praised Booker's continual self-sacrifice in the interest of equal opportunity and said something that may or may not be construed as a running mate hint. "It gives me such a sense of gratification that he is here, supporting me in this very important election, because there is nobody I'd rather have by my side," Clinton said of Booker. 
Of course, Clinton didn't clarify whether she meant "have by my side as a vice president" or simply, "campaign with," but Booker's name had been dropped in conversations surrounding vice presidential picks even before that. NBC News listed him as one of seven potential contenders for the position in early January, noting his skills with social media. 
For his part, Booker has been a strong Clinton supporter from the start, formally endorsing her in June and saying that he could think of "few candidates in history who are as qualified or ready for the job of president as Hillary Clinton." Recently, he defended her stance on Wall Street against attack from Sanders. He's also called her a civil rights "champion" whom black and Latino voters can trust to work for equality. 
The largest obstacle to a Clinton-Booker ticket? The 46-year-old is relatively inexperienced. Clinton may do better to pick someone with a longer track record in Washington.
Writing for Politico, Bill Scher recently made a strong case for Minnesota Sen. Al Franken as Clinton's running mate. Noting Franken's previous career as a Saturday Night Live writer, Scher wrote that the pick would have seemed ridiculous before reality TV star Trump turned the presidential election upside down. He wrote, though, that the quick-witted Franken has continually proved able to withstand even the most vehement of Republican attacks. 
He also has the progressive chops the Clinton campaign may need. According to Scher, Franken has taken on Wall Street and propagated a populist ideology. He holds the power to bring the energetic young Sanders voters over to the Clinton camp, and he'd be more than a match for Trump when it comes to debate. In fact, that would be a marvelously entertaining thing to watch. Clinton-Franken '16 — an unlikely dream team? Maybe we'll get to find out. 
March 31, 2016, 1:32 p.m.: This article has been updated to reflect the most recent information on the presidential election.