Kris Jenner Discusses Kanye West on 'Ellen,' Says He Needs to Stop Tweeting So Much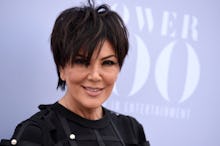 Jordan Strauss/AP
Kris Jenner, matriarch of the Kardashian Klan and mother-in-law to rapper Kanye West, appeared on The Ellen DeGeneres Show on Tuesday to discuss, among other things, her relationship to Nicole Brown Simpson, Caitlyn Jenner's transition and Kanye's recent twitter meltdowns.
Read: I Wouldn't Wish Kim Kardashian West's Beauty Secrets on My Worst Enemy
"Let's talk about Kanye just briefly," host Ellen DeGeneres said to Jenner, to which Jenner responded, "I don't think you can ever talk about Kanye briefly."
When DeGeneres asked Jenner about Kanye's binge-tweeting sessions, Jenner said, "You know, there've been days when there should be a no tweeting law ... I'll ground him."
But she was quick to reiterate her affection for Yeezy, who is married to Jenner's daughter Kim Kardashian West. "He's a great guy, he really is." She went on to say that Kanye's tweets (specifically his apparent claims that he is millions of dollars in debt) are "misconstrued" by "the media."
"He loves you, by the way," Jenner said to DeGeneres.
Jenner also played a game of "Who'd You Rather" with DeGeneres, during which she revealed that both Justin Bieber and Donald Trump are friends of the Kardashian family. Also, she totally thinks Zac Efron is cute.