Chvrches and Death Cab for Cutie Tour Confirmed — Here Are Dates and Ticket Info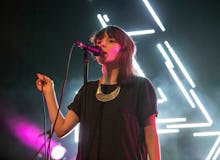 Katie Darby/AP
Scottish synth-pop group Chvrches and indie giants Death Cab for Cutie have confirmed joint headlining tour dates in June, Pitchfork reported. The bands, each of which is on an extensive tour to support new material, will come together for five shows in five states between June 7 and June 16 — jointly hitting Cleveland, Ohio; Canandaigua, New York; Augustine, Florida; Charleston, South Carolina and Charlotte, North Carolina. Tickets are available for purchase either through Chvrches' tour page or on Death Cab for Cutie's website. 
Read more: Chvrches' Lauren Mayberry Shuts Down Sexist Trolls on 4chan
In September, Chvrches (pronounced "Churches") released their sophomore studio album Every Open Eye, which trails the group's 2013 debut LP, The Bones of What you Believe. The indie rockers will deliver several shows this month in New Orleans, Chicago and Austin, before heading overseas for a show at London's Royal Albert hall on March 31. Extensive European and nationwide tour dates are in store for the group before and after they link up with Death Cab for Cutie in June.
For its part, Death Cab for Cutie is also on the road to support Kintsugi, which fans unwrapped in March 2015. Kintsugi marks the prolific group's eighth studio album, and comes nearly two decades after Death Cab for Cutie's debut LP, 1998's Something About Airplanes, and four years after the group released Codes and Keys.
Co-headlining tour dates:
June 7 at the Jacobs Pavilion at Nautica in Cleveland, Ohio
June 8 at the Constellation Brands-Marvin Performing Arts Center in Canandaigua, New York 
June 14 at St. Augustine Amphitheater in St. Augustine, Florida
June 15 at the Volvo Cars Stadium in Charleston, South Carolina
June 16 at the The Uptown Amphitheater in Charlotte, North Carolina