The Lisa Frank Facebook Page Has All the Memes You'll Ever Need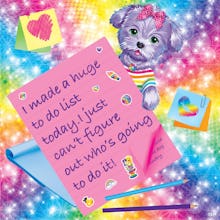 For some kids, when you were about 7 or 8 years old, Lisa Frank was life. If you didn't have at least one folder with rainbow dolphins jumping out of technicolor waves, you weren't shit. 
Turns out, all these years later, the psychedelic brand has still got it. Except now, its fully embraced virality and joined forces with the inescapable internet trends that are "memes." 
Go on its Facebook page right now, which has more than 736,000 likes, and this is what you'll see: 
It's like if every inspirational poster in every school counselor's office that was meant to cheer you up took too much acid. And it's amazing. 
In response to every single one, it's like "Same, Lisa Frank. Extremely same." 
The Lisa Frank brand has waned in earnest popularity over the decades, but in recent years, fueled by a mixture of curious and nostalgia, we've been digging up more info on modern-day Lisa.
In fact, the new, web-savvy branding has already caught the internet's attention, with websites and Reddit users alike trying to figure out why the brand has veered into making weirdly depressing inspirational memes out of nowhere. 
Twitter users have started paying attention too, proposing that your aunt on Facebook is probably behind the entire operation. 
These relatable memes — that are definitely not trying to be as funny as they are — will surely save the entire business. They're easily tapping into what we love on lots of levels. 'Cuz it's like, we love naps... 
... and we also really actually wish we could text our dogs. 
So whether or not aunts of America are really behind this or not, consider us really big fans. And we're not afraid to say that because really... 
Yeah, but really though.