What to Watch on Netflix When You Want to Laugh and Forget That the World Is a Cruel Place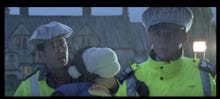 Everyone has a bad week now and then. Perhaps no one liked your super sick Facebook post. Maybe half of your friends decided not to partake in the tapeworm diet — the nerve of them. Either way, if it's been a crappy week and you want to relax, thankfully, you have your constant companion to lift your spirits: Netflix. 
The seemingly omnipresent streaming service has options available for any one of your moods — and since you're feeling down, why not try some comedy? From Will Ferrel as a NASCAR driver to Reese Witherspoon's quest to become student council president, here are seven of the best comedies available on Netflix to help you forget that the world is a cruel and unforgiving place. 
Read more: Best Netflix Movies for Couples That Could Save a Relationship — Otherwise You're Screwed
Hot Fuzz: Simon Pegg and Nick Frost are an amazing comedic duo, known for the critically acclaimed comedies Shaun of the Dead and The World's End. Hot Fuzz, though, is arguably their most irreverent. Set in a small English town, Pegg's character comes from London as an absolute badass who was reassigned because he made everyone else look bad. 
While he assumes it'll be a boring town to work in, he soon realizes the string of "accidents" seem like very intentional murders. Frost's character — who is obsessed with buddy-cop action films — is along for the ride, and they'll quite literally destroy the town in order to save it. 
Wet Hot American Summer: Wet Hot American Summer became such a cult hit, Netflix created a miniseries in its honor 15 years later, featuring all of the talented original cast. However, the original hit is also available on the streaming service — a homage to all the eccentricities of summer camp counselors, cooks and kids, which any former campers can appreciate. 
Wayne's World: Of all the Saturday Night Live skits turned movies, Wayne's World is the epitome of how successful those adaptations can be (sorry, MacGruber). The lead performances by Mike Myers and Dana Carvey are unforgettably funny, and the film has a plethora of memorable quotes that fill the mainstream pop culture landscape — even now. Sadly, Myers' brand of humor hasn't aged as well as the movie. 
The Interview: The controversy surrounding its release will always take precedence, and while The Interview isn't the funniest movie out there, the fact that North Korea condemned it so strongly actually gives the film a comedic depth it wouldn't have had otherwise. James Franco and Seth Rogen's bromance is in fine form, and it's absolutely worth a watch — at the very least to see faux Kim Jong-un's take on Katy Perry's music. 
Election: In the middle of another election year, it's fitting to revisit a movie literally called Election — though the voting process in this film is on a much smaller scale. Reese Witherspoon's character, Tracey Flick, will do whatever it takes to win her student council election and be student body president. It's a poignant take on the political cycle — and it's even more relatable given the wackiness from both parties in the forthcoming 2016 election. 
Talladega Nights: The Ballad of Ricky Bobby: Unbelievably, this was made by the same director who directed the Oscar-nominated The Big Short. Talladega Nights: The Ballad of Ricky Bobby is a clever comedy with a focus on fictitious NASCAR driver, Ricky Bobby, played by the consistently hilarious Will Ferrell. Moreover, excellent supporting performances by the likes of Sacha Baron Cohen, John C. Reilly and the late Michael Clarke Duncan build the film's quirky foundation. 
Tucker and Dale vs. Evil: The titular characters, Tucker and Dale, just want to go on a vacation in their somewhat disheveled mountain cabin. Unfortunately, a group of horny teenagers are going into the same woods and — gosh darn it — they keep mistaking Tucker and Dale for psychotic backwoods killers. The over-the-top gore and accidental murders are hilarious. Tucker and Dale vs. Evil is one of the best in the horror-comedy subgenre. 
Now you have a lot of Netflix movies to cheer you up.