"Best Thang Smoking": Watch Snoop Dogg, Wiz Khalifa Smoke Lots of Weed in New Berner Video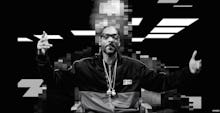 Mic/YouTube
Breaking news: Snoop Dogg and Wiz Khalifa smoke weed. Yes, that's right, you heard it here first. But don't take our word for it — watch real, hard evidence of the rappers blowing herb in a new music video Berner released Tuesday, titled "Best Thang Smokin." 
The song features Wiz Khalifa, Snoop Dogg and B-Real, all of whom not only candidly admit to partaking in weed consumption, but revealing they each love nothing more than a little bit of green. "Best Thang Smokin" is off Berner's forthcoming album titled Hempire. Notice the play on words? Berner's 18-track album is set for an April 1 release on iTunes.
Read more: Are the Munchies Real? Science Suggests Smoking Weed Leads To Binge-Snacking
It's a trippy music video to say the least, featuring each rapper spitting their verse while smoking a copious amount of weed. It's also the first music video released off Hempire, which also features Khalifa in a number of other tracks, including "Still Rich" and "Seal." Berner's upcoming album also includes a number of other hip-hop mainstays, including Atmosphere, Maejor, Hollywood, Freeze, Cozmo and Quez, among other artists. 
Check out the smoky video below: