These Politicians Want to Ban Women's Nipples, Fear Allowing Toplessness Will 'Escalate'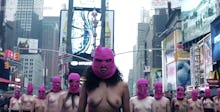 For years, the Free the Nipple movement has been fighting sexist public nudity laws that effectively prohibit women from bearing their chests in public. Yet, this seemingly simple goal has been met with plenty of resistance, most recently from male, New Hampshire state representatives who have co-sponsored a bill that will ban female toplessness (shockingly) based on particularly offensive logic.
At a public hearing on Monday, state Reps. Brian Gallagher and Peter Spanos argued the bill they're co-sponsoring — which will charge women who expose their breasts and nipples with a misdemeanor — is necessary because female toplessness is an act of "reckless disregard" that could easily escalate, the Huffington Post reported Monday.
The legislation in question is at least partially a response to the "Free the Nipple" movement itself — specifically, an incident in which two activists went topless on a public beach in Gilford, New Hampshire, and were subsequently given citations, the Valley News reported in August. The bills' sponsors argued that their legislation is necessary because allowing toplessness in certain places, like beaches, could lead to women walking shirtless in libraries or Little League baseball games, the Associated Press reported.
While female toplessness is currently legal in New Hampshire — and is, in fact, only completely prohibited in Indiana, Utah and Tennessee, according to the organization Go Topless — the representatives posited that such nudity was at odds with "the values of New Hampshire society," according to the Associated Press.
"It's a shame that some folks are more concerned with exposing their breasts in public places than they are concerned about how families and children may be impacted by being forced to experience this evolving societal behavior," Gallagher told a New Hampshire legislative committee, according to the same report.
Gallagher's argument is also the same one that Free the Nipple movement's leader, Lena Esco, has publicly taken issue with. As Esco argued in a 2013 Huffington Post essay, politicians might consider being less concerned with the effect of female toplessness on "families and children" than with far more commonplace things, like images of violence: In fact, the average American child sees more than 200,000 acts of violence and 16,000 murders on TV before they turn 18, according to the American Psychiatric Association.
Neither Esco nor the two activists that likely inspired this legislation are alone in their call to push back on the sexist double standard that regards female nipples as offensive. Activists have resigned from sororities, countered social media bans and even been arrested for opposing sexist public nudity laws. 
Apparently, they will have to keep doing so if male legislators continue to regard natural, biological aspects of the female body as offensive and subject to legal regulation.
h/t Huffington Post