Miguel and Tame Impala Team Up for "Waves" Remix Video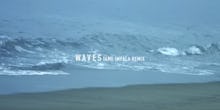 YouTube
Shortly after Tame Impala remixed Miguel's "Waves" for the artist's latest EP, titled Rogue Waves, the Australian rock band's frontman Kevin Parker joined forces with the R&B artist for a creative, new music video. The short video is shot entirely on a beach — and lasts only 1 minute, 35 seconds — but it's nostalgic feel and artistic visuals provide all the entertainment one needs.
Tame Impala's remix of "Waves" continues the creative rebranding of Miguel's Wildheart album, which was released in 2015. A collection of songs from that album were all remixed by the performer for Rogue Waves, featuring more trance beats, electric guitar and the Miguel riffs his fans and R&B listeners alike have grown to love.
Read more: Miguel's Grammy Performance Made a Case for Why He's Vital to the Future of R&B
Both artists are just as gorgeous as ever in the new video short, which shows both singers seated as waves come crashing ashore on a dimly lit beach. Both Miguel and Parker stare off into the distance as swarms of birds float above them. 
The video seems to pick up right where Miguel's original music video for "Waves" ended. After the singer attends a club party and gets the crowd dancing to his latest hit, Miguel's clothed body is seen floating in the water as his chains float across his chest. 
Check out Parker and Miguel in their "Waves" music video short below:
Also, check out the original music video for Miguel's "Waves" below: