Tips for How to Eat Healthy When Time Is Not on Your Side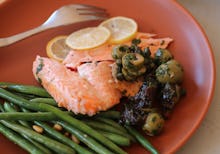 Matthew Mead/AP
With packed schedules, deadlines and making time to have a social life, eating healthy is probably the last thing on your mind and agenda. But with a little bit of strategic planning, you can still keep up a healthy diet despite having little to no wiggle room in your schedule. 
There's a whole slew of benefits that come with maintaining a healthy diet, such as reduced risks for chronic diseases. Skipping breakfast or lunch because you're strapped for time can leave a person lacking important nutrients and feeling fatigued, according to Prevention. Research has also linked meal-skipping to impulsively choosing junk food out of hunger. 
Read more: How to Eat Healthy When You're Broke AF
Simple tips for eating healthy: When grocery shopping, go for pre-washed and pre-chopped produce, the Huffington Post suggests. Also, don't be shy of canned or frozen foods that are low in sodium, as they can make cooking faster.
Set a mandatory appointment with yourself to prepare meals and snacks ahead of time and in large amounts (may we suggest Sundays?). This means you'll have days' worth of leftovers to heat up at your convenience. While that means you're out of excuses for ordering Seamless for dinner, you at least have one to buy more of those trusty food-storing mason jars. 
Another idea: It may be beneficial to invest in a crockpot, which lets you toss in just about anything and come back home after a long day to an effortlessly hot meal. Especially popular to make in crockpots are pot roasts, stews and chili, according to Buzzfeed. 
There's also a multitude of recipes that require no cooking at all, such as chia pudding, raw tacos and wraps, according to Greatist.