Every 'Harry Potter' Fan Will Want to Visit This Argentinian Cafe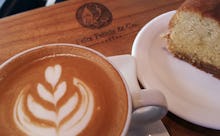 Facebook
Felix Félicis in Argentina is both Harry Potter's lucky potion and a real-life coffee shop.
The shop has satiated both Harry Potter fans' obsession and appetite by creating literary-themed pastries.
Co-owner, barista and avid Harry Potter fan Natalia Montoya told BuzzFeed the wizarding world theme is unintentional. It started when they placed a logo on the toilet seat directing customers down the toilet to the Ministry of Magic. 
The owners did name the shop after the Potter potion though, and for a clever reason. "The choice of that potion isn't a coincidence, it has meaning," she told BuzzFeed. "If you make it correctly, it works perfectly. If you make it wrong, the results are catastrophic and that's also true when it comes to making good coffee."
The shop's wizarding world theme is apparent everywhere to the careful observer. It appears in these coffee mugs:
And this Potter figurine:
The owners plan to add a shrine of Harry Potter references on the walls. 
They even welcome the Malfoy family, because Hogwarts drama is so yesterday. 
Read more: There's a Serious Problem With Universal's New Harry Potter Ride — See for Yourself