The Best Beyoncé Tumblr Posts to Help You Unleash Your Inner Bey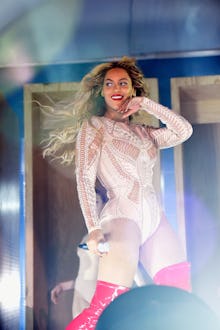 Kevin Mazur/Getty Images
Sometimes we all need a little Beyonspiration, to unleash the Queen Bey that lives inside all of us (most of us). That's what Tumblr is for: offering up Beyoncé photos befitting of every occasion, allowing us to determine what Bey would do in any given situation. 
Read more: Beyoncé Will Have a Portrait Series in 'Garage' Magazine and the Preview Is Stunning
Below, we've rounded up some of the best Beyoncé Tumblr posts that describe those feelings when. Because Bey gets it. She's been there. Let her guide you.
When life gives you lemons and some asshole tells you to just make lemonade:
When you are a beautiful angel but you still have to take the stairs:
When your outfit is obviously the best outfit out of all the outfits:
When you're sitting courtside but you don't want to distract from the game because you're considerate, so you wear sunglasses and a hat:
When it's Christmas and you're feeling particularly festive:
When it's Wednesday so you decide, "Fuck it, I'm wearing pink":
When you get in formation:
When you lack the motivation; feel as though you can't even:
But then find the ability to can (thanks, Bey) and you win:
When you are Beyoncé:
(But if someone pays you so high a compliment, just remember to say "thank you." Beyoncé would.)