Is Tinder the New LinkedIn?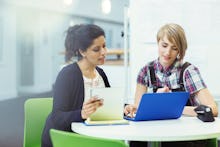 My favorite writing partner is a woman I met on Tinder a few years ago. Although we met while we were both looking for sex, we've both since entered new, monogamous relationships and have become best friends and co-creators. I'm also co-producing a podcast with a guy I met five years ago on OkCupid. Our romantic connection didn't pan out, but professionally, we seem to have hit the mark. 
These are two truly wonderful professional connections and mentorships I've made through dating apps, and I'm not alone. Some people have gotten hiring recommendations on the app; others, actual job offers. Either way, the app is clearly being used for purposes other than hooking up. 
Jerry*, a 28-year-old graphic designer, told Mic that he once swiped right on a woman in his industry on Tinder. "I talked to some girl but we never went out. She was new to the city because her company was opening up something in Williamsburg." 
In the business world, Jerry and the woman were in direct competition, but due to the friendly connection they established (despite, or perhaps because, they never slept together), she felt it was appropriate to help him out by recommending an intern.  
"I asked her if she's been in touch with anybody good and she was like 'Try this kid.' I did, and now he's family," Jerry told Mic.
This tactic, however, can backfire. Sean, 28, a film producer, told Mic that he hates it when people ask him for career advice while he;s trying to get laid and not think about work.
"One time a girl I went to college with matched with me and asked me what the secret to my success is," Sean told Mic. "I blocked her."
Apparently, Tinder is aware that people are using the app for networking rather than dating purposes. (Tinder did not respond to Mic's request for comment.) Last year, the company created "a speed business networking feature business that is powered by Tinder," although it was only made available to those featured in Forbes "Under 30" lists. There are also a slew of other swipe-based job search apps like Switch that exist purely for networking purposes. 
Yet job search apps clearly haven't yet proven sufficient for some job seekers, who are turning to apps like Tinder and websites like OkCupid to suit their needs. For instance, Simon*, 34, a television producer, met a woman on OkCupid four years ago who was also a TV producer. Although he lived in Brooklyn and she lived in Los Angeles, they messaged over shared interests. 
"We were just talking about bands and shooting the shit. It never felt romantic, and I wasn't interested in long distance so I knew it would never happen," he said. 
"One time a girl I went to college with matched with me and asked me what the secret to my success is. I blocked her."
They became friends on Facebook and their relationship quickly turned professional. "When we have a shoot in the other's city, we ask for PA and studio recommendations, things like that," Simon told Mic.   
Rosa*, 28, a singer/songwriter from Laguna Beach, met the photographer who shot her recent album cover on Tinder. Because he is at least 10 years older than her, they never dated, making it a professional relationship from start to finish.
"We set up the date pretty much right away through Tinder. After I looked at his photos [of his work he had up on the app] I knew I loved his work," Rosa told Mic. "[It wasn't] sexual or romantic, although dating tidbits were discussed at dinner afterwards, but it was all with good demeanor and professional," Rosa told Mic. 
Moving into professional rather than dating etiquette was easier in this instance, because as she tells it, he wasn't her type. "I wouldn't normally be romantically interested in someone much older, but after meeting and working with him I'm so glad I accidentally swiped him, as I will definitely use him as a connection for professional projects," Rosa told Mic.
Although for Rosa, the use of a dating app to advance her career went off without a hitch, it's important to highlight that this is not the case for everyone. Because most people use Tinder for a specific purpose, discovering that someone else is on the app for another, arguably more cynical reason might cause some conflict. And just as I've used Tinder to find a great writing partner, I've also been offended by requests from other Tinder users to be introduced to my editors. 
Similarly, using a non-dating app to forge romantic connections is almost never a good idea. Back in Sept. 2015, human rights lawyer Charlotte Proudman put a LinkedIn creeper on blast when she posted sexist LinkedIn messages from him, which complimented her on her appearance rather than on her professional skills. In this context, such unwanted sexual advances in a professional setting can not only be unpleasant, but also sexual harassment. 
Just as LinkedIn users reserve the right to maintain a professional environment on the networking platform, so too do Tinder users reserve the right to un-match you if you, say, ask for career advice, or (heaven forbid) bug someone for a professional reference. That's why knowing when it's OK to turn a dating connection professional or vice versa requires instinct and communication.  
That said, people are clearly fairly comfortable using apps like Tinder in a way that caters directly to their needs, even if it goes against their intended purpose. 
"As long as you can lay down the line from the start and be open with communication, I believe [dating apps] can be used for whatever you want [them] to be," Rosa told Mic. "Just make sure both parties are on the same page." 
*First names have been changed to allow subjects to speak freely on private matters.