Your Old 'Harry Potter' Books May Be Worth a Small Fortune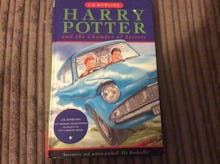 eBay
Your old Harry Potter books may add a nice touch to your bookcase. But they could add a nicer touch to your wallet. 
The Sun reported that some of the oldest editions of Harry Potter books could be worth more than $55,000.
In his newly released J.K. Rowling: A Bibliography 1997-2013, author Philip W. Errington revealed he learned the valuable information while working at a Sotheby's auction house, according to the Sun. 
The jackpot is a hardcover edition of the original Harry Potter and the Philosopher's Stone credited to "Joanne Rowling" instead of J.K. Rowling, which book collecting site AbeBooks said is worth up to $55,400.
If you have the first deluxe edition of the book, you may be able to sell it for more than $2,000, according to AbeBooks. 
Any first edition first printing copies of any of the books — Chamber of Secrets, Prisoner of Azkaban can earn you thousands.
And a Rowling-signed copy of the Goblet of Fire can be worth more than $10,000. (Apparently she significantly cut down on signing books by the fourth).
It might be time to reconsider your attachment to your Harry Potter collection. 
Read more: There's a Serious Problem With Universal's New Harry Potter Ride — See for Yourself